Greetings Bookworms!
Have you ever wanted to jump right into a book? Like dive into the pages and chill with your favorite characters? My latest read offered just that opportunity! I've had people recommending The Eyre Affair
to me for years and only just got around to it. I'm kicking myself for this procrastination now because this book was the quirkiest little pile of literary geekery I've read in a good long while.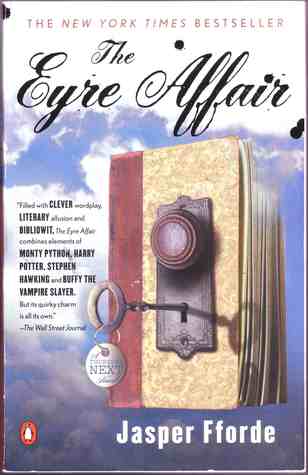 The Eyre Affair takes place in an alternate reality version of 1985 England. Thursday Next is a Special Operations agent working in literary detection. Special Operations encompasses some zany departments including the Chronoguard who jump around through time making sure miscreants don't try to rewrite history. Performances of Richard III
are performed audience inclusion style a la The Rocky Horror Picture Show. Cloning is totally a thing, so forget tiny dogs in handbags, dodos are the trendiest pets on the block. Though the literary detection agency tends to be a bit heavier on paper pushing than field work, Thursday manages to get herself entangled in danger and mayhem.
This book was so gloriously geeky I want to unabashedly recommend it to everyone I meet. However, I think that in order to really enjoy the novel, you have to have read Jane Eyre
(review). It wouldn't hurt to have read some other classics as well, but since so much of the plot of this book revolves around Jane Eyre, not being familiar with the original story puts the reader at a huge disadvantage. Honestly, though, if you haven't read Jane Eyre you should. I know classics can be indimidating, but I found it to be much less arduous than I'd imagined and just so darn good! The Eyre Affair is a version of stylized fantasy that won't work for everyone, but for the right audience it's amazing. I am that audience. Odds are that if you're reading this blog, you're that audience, too. Go forth and enjoy!
Talk to me Bookworms! If you could literally jump into a book, which book would you choose? 
*If you make a purchase through a link on this site, I will receive a small commission.*