Howdy Bookworms!
I have been having such great fun with my library's audio book selection lately. I've been dabbling in a lot of backlist books and it has been a blast. Sarah Addison Allen never fails to enchant me, the woman is made of moonbeams and fairy dust. Needless to say, I did a little happy dance when The Girl Who Chased the Moon
popped up as available. I downloaded that faster than you can say "cake rules." (Though, cake really does rule. I love cake.)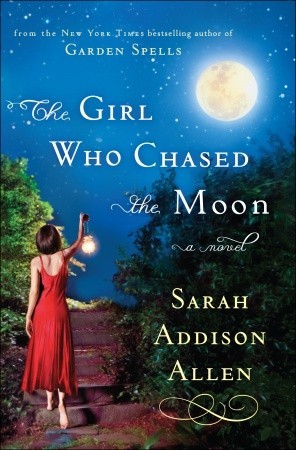 When Emily Benedict arrives in Mullaby, North Carolina, she has no idea what to expect. Her recently deceased mother told her absolutely nothing about her hometown, let alone that Emily had a living grandfather (who happens to be both a giant and a BBQ enthusiast.) Mullaby is an odd town full of quirky characters and odd happenings. Julia Winterson is another reluctant Mullaby resident, having returned to town after her father's death in order to run his restaurant. She bakes some amazing cakes, and nobody is more appreciative of that particular talent than dreamboat Sawyer.  Unfortunately IT'S COMPLICATED. Emily and Julia strike up an unlikely friendship and help each other navigate the strangeness and wonder of Mullaby. Family secrets and history and magic and love and moonlight and CAKE collide in this scrumptious novel, and the result is utterly charming.
Well, it's official. I need to read ALL THE THINGS Sarah Addison Allen has ever written. These books just make me so darn happy. I can't help but smile, sigh, and daydream a little every time I read one. If you need a break from reality that will warm your heart and make you desperately want to taste Hummingbird Cake (cream cheese frosting? I am so in!) pick up The Girl Who Chased the Moon and enjoy!
My dearest Bookworms, tell me something. Do any of you have an author that you read when you need a pick-me-up?
*If you make a purchase through a link on this site, I will receive a small commission.*