Merry Grinchmas, Bookworms!
I've had a post percolating for a while now and I'm afraid it's about to boil over. Before I start, I should mention that this post is meant to be lighthearted and silly. If you're overly attached to "pop" Christmas songs, you may want to skip this, because I'm putting on my heckling pants. (You should probably mentally play "You're a Mean One, Mr. Grinch" whilst reading this as it is appropriate mood music.) And now, I shall eviscerate a selection of holiday songs that get on my last nerve…
Holiday Music Complaint The First: Why is "My Favorite Things" considered a Christmas song?! It is not at all about Christmas. It's about distracting children from a thunderstorm. Sure it mentions a few winter-related things, but The Sound of Music
takes place in the Austrian mountains, they have snow like 10 months a year probably (I am terrible at knowing the weather conditions of places I don't live.) Raindrops on roses? That's springtime, y'all. Whiskers on kittens? That's always. Cream colored ponies? Everybody loves a pony regardless of season. I'm calling shenanigans on whomever put this into heavy rotation on Christmas radio stations. Hmph.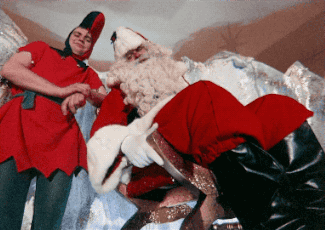 Holiday Music Complaint The Second: "Do They Know It's Christmas" was originally produced in 1984 to raise money for an African famine. I get that, and YES, FEED THE WORLD. But. The song is, at best, melodramatic, and at worst, imperialistic. "There won't be snow in Africa this Christmas time." Well there won't be snow in Florida either, but I don't hear anybody griping about THAT. "Do they know it's Christmas time at all?" Well, you've got a 50/50 shot on that. According to my very scientific Wikipedia research, only about 45% of Africa is Christian. There's a fair chance that the remaining 55% of the population DOESN'T know it's Christmas time and really doesn't give a figgy pudding. Why would they need to know it's Christmas if they don't celebrate the holiday? Also, "the Christmas bells that ring there are the clanging chimes of doom"? We've turned the corner into teenage dramatics there. "Well tonight thank God it's them instead of you."That's kind of a dickhead way to tell someone to count their blessings… Thumbs down, Band Aid.
Holiday Music Complaint The Third: This one gives me pause, because it's catchy and I kind of dig it. That is, I DID kind of dig it until I really paid attention to the words. It's time to face the facts, people. "Baby It's Cold Outside" is the holiday jingle of sexual assault! Dude relentlessly tries to persuade date to stay in his home using such classic creepster phrasing such as, "What's the sense in hurting my pride?" and "Think of my lifelong sorrow if you got pneumonia and died." Really, dude? You're trying to scare your lady into staying by threatening deadly infection? When that fails, though, ply her with alcohol. "Say, what's in this drink?" Roofies, probably. Get out of there, girl! "The answer is no." NO MEANS NO, DEAN MARTIN! Maybe just a cigarette more…" Nooooo! Now we're promoting date rape AND tobacco usage?!
Now that I've proven that my heart is indeed two sizes too small, I could use some company (aside from Office Beagle, who has been eyeing me dubiously since I mentioned the idea of strapping antlers to his noggin.) Are there any holiday songs that annoy the sugarplums out of you, Bookworms?
*If you make a purchase through a link on this site, I will receive a small commission.*