Howdy Bookworms,
It's Tuesday again, and with that comes the opportunity to make a list… With a group. I'm a JOINER, see? (Well. A digital joiner. Maybe kind of. Whatever.) This week the ladies of The Broke and the Bookish have challenged the book blogosphere to make a list of bookish things we'd like to own… You know, that aren't books. This is bound to get ridiculous. Are you ready?!
1. A personal library with sliding ladder. I don't care that it's impractical to live in a dwelling so large as to have a dedicated library. I don't care that I read most of my books digitally. Maybe if I had my own LIBRARY, I wouldn't need the digital storage space. And what's a library without a sliding ladder?!
2. A Castle. Did I not mention that I wanted my library to be in a castle? Because I do. Castles are obviously the most bookish dwelling. (In place of a moat, though, I'll install a lazy river for me to float around whilst reading my books. Nice right?)
3. This Alice in Wonderland necklace from Modcloth. Because Alice is my homegirl.
4. Cute Penguin Bookends
. Why the heck not?
5. A new booklight. This isn't imperative at the moment, thanks to my GLORIOUS Kindle Paperwhite
, but when I want to read a physical book in bed, I still use a book light. The one I have now is just okay… Maybe I'm spoiled by the back lighting I'm used to, but my current external booklight doesn't seem to illuminate as well as I'd like.
6. A Bookish Scarf. I like wearing scarves, they're a fun little accessory. I'd like a bookish one. I've seen one that contains the text of Pride and Prejudice that I covet. COVET.
7. Bookish Drinkware. What better to use to sip your coffee while reading than a bookish mug? I mean, really. And, you know, if you wanted to be super awesome, you could order one from my Zazzle store.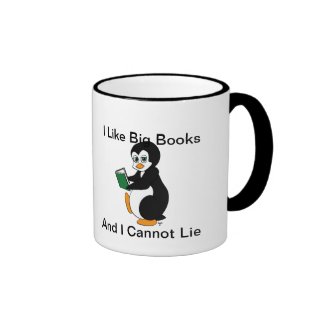 I Like Big Books Mug
by
WordsForWorms
Browse
Coffee Mugs
I should probably stop there. I mean, I already told you I want a castle complete with library, sliding ladders, and a lazy river. I think that's about all the crazy the internet has time for today.
What about you, bookworms? Anything bookish you've had your eye on lately?
*If you make a purchase through a link on this site, I may receive a small commission. I may not, too. It all depends on the link. Just so you know and all. Legalities.*