Well Met, Bookworms!
Did I just go all Renaissance Faire on you? I did. And for reasons. I have finally conquered the non-fiction book that I've been reading at a tortoise-like pace and I am here to tell you all about North by Shakespeare by Michael Blanding. I received a digital galley of this book because Michael Blanding asked really nicely if I'd be interested in reviewing it. I don't take on many ARCs these days because I'm just running around reading whatever I feel like, but I do make exceptions from time to time. Anyway. I got the book for free, I will still give you my honest opinion, and so on, etc.
It's no secret that I don't read much non-fiction. I simply find that my mind saunters through fiction more quickly and I enjoy getting sucked into a story. However, even my ultra-fictional self is not immune to the charms of Shakespeare and Tudor England. I've read more than my share of novels surrounding various Tudors (I went through a major Phillipa Gregory phase.) I also read a book a few years back, The Bookman's Tale (review), that dealt with people questioning the true identity of one William Shakespeare. So, while non-fiction may not be my go-to, I was definitely intrigued by the subject matter behind North by Shakespeare. Look, some of us were born to be scholars, others of us learned about the wonders of the Bodleian Library by reading A Discovery of Witches (review), OK?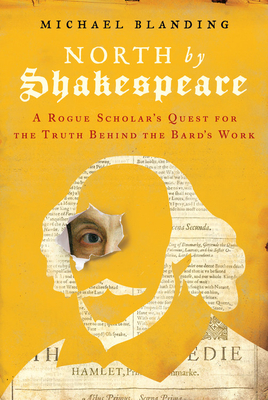 North by Shakespeare highlights the research of Dennis McCarthy. McCarthy is a fascinating character unto himself, a sort of enigmatic brilliant researcher with no formal training who loves Ultimate Frisbee. There has been debate in the Shakespearean community for decades- centuries even- over whether or not William Shakespeare, son of a glover, from Nowheresville, England, could realistically have crafted all the brilliant plays he's credited with. I mean, the guy didn't have a ton of education, money, or courtly connections, but he wrote masterpieces featuring political intrigue and an uncanny number of Italian backdrops for someone who most likely never visited the country. Some have argued that he had a co-writer, others have attributed his works to any number of other potential authors. Armed only with some plagiarism software, McCarthy set out to unearth the truth behind Shakespeare. And, he actually may have succeeded.
The book takes us through McCarthy's research techniques and concludes that many of Shakespeare's most popular plays were, in fact, adaptations of earlier works by one Sir Thomas North. This isn't completely out of left field- for years scholars have agreed that North's work Plutarch's Lives greatly influenced the writing of Shakespeare's Roman tragedies. Once McCarthy began running comparisons on Shakespeare's plays and works attributed to North, he began finding more and more similarities. We are taken play-by-play (literal plays, not sportsball) through some of Shakespeare's best known works within the context of what is known of North's life, and there's some pretty compelling evidence that North may have had a hand in things.
Of course, there's always doubt, because when you're talking about 500 year old manuscripts, there's a LOT that's been lost to the ages. Life in Tudor England was precarious for everyone. Plague, pestilence, wars, and the regular beheadings of people who said the wrong thing about the wrong powerful person didn't exactly endear people to keeping accurate records of all the things. Plus, stuff just burned down all the dang time, and Elizabeth I, the actual QUEEN OF ENGLAND likely died of tonsillitis (my kingdom for an antibiotic!) Can we prove beyond a shadow of a doubt that Thomas North, second son of a nobleman living in relative poverty at the will of his brother (Roger was a dick to his little brother. GIVE THE MAN A REASONABLE ALLOWANCE, YOU TOAD!) was actually a playwright who composed the framework, if not the flowery language, of some of the best known masterpieces of English theater? Of course not. And does this fact pose some hurdles within the Shakespearean academic community? Absolutely. Will McCarthy's theories ever achieve mainstream acceptance? I have no idea.
However. I, Katie Kelly, reader of books and scholar of nothing in particular, am totally sold on the idea that Thomas North sold his plays to Shakespeare, who then re-worked them into the canon we know today. Audiences today are eating up reboot after reboot of older TV shows and movies, I see no reason to believe the Elizabethans wouldn't have recycled material. Plus, the inside jokes and ulterior play motives seem to line up better with North's timeline than they do with Shakespeare's. Like I said. Compelling arguments abound.
If you have any interest in the subject of Shakespeare, Elizabethan England, or eccentric scholarly pursuits, I'd recommend that you read North by Shakespeare. 
If you make a purchase through a link on this site, I will receive a small commission. Links in the post above direct to Amazon, but if you're interested and in a position to do so, please consider making a purchase from a local independent bookstore. IndieBound and Bookshop make it easy to do just that without having to leave your home!