Good Morrow, Bookworms!
Stop me if you've heard this one: A witch, a daemon, and a vampire walk into a bar… Oh wait, you know that one? That's kind of what I thought too, when I started reading the All Souls Trilogy
by Deborah Harkness. I decided to review the series as a whole, because I totally binge listened to them and this way I can limit spoilers with carefully placed vagaries. I'll probably screw up and reveal stuff because I'm me, so take this as your spoiler alert if you're super spoiler averse. Spoiler sounds funny if you say it over and over again. Spoiler. Spoooooiiiiiillllllllleeerrrrrrr.
Basic plot overview: Historian/professor/reluctant witch Diana Bishop finds herself drawn into an ancient mystery all while falling head over heels in love with a vampire/doctor/research fellow/polyglot Matthew Clairmont. A mysterious, bewitched alchemical manuscript revealed itself to Diana and as a result she draws the interest of every daemon, witch, and vampire in the greater Oxford region. Diana and Matthew's attraction is forbidden by a shadowy organization whose chief function is to prevent the intermingling of creatures lest they be discovered by the hapless humans surrounding them (Volturi, anyone?) Diana and Matthew need to acquire the book, discover the secrets it holds, and figure out their relationship before the world around them implodes. Or something. It's a big deal, okay?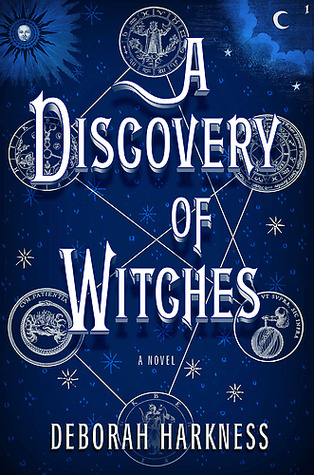 A Discovery of Witches
was the first book in the crew and I found it disturbingly Twilight
-ish… At least in the beginning. Diana (who doesn't realize she's beautiful and talented) can't figure out why devastatingly handsome vampire Matthew has a thing for her. She falls for him, he tries to push her away despite his desperate passion, you know the drill. As things progressed, I got a little less grumpy because there was some science (highly fictionalized science, mind, we're talking about vampires, daemons, and witches, after all) and pseudo-science. Namely alchemy. Everyone knows that alchemy is the process by which people who didn't understand the periodic table of elements attempted to turn metal into gold. It's obviously not a thing that can happen, but that doesn't mean it isn't fascinating from a historical perspective, so that was pretty fun.
Shadow of Night
was the second book in the bunch, and reminded me of the second Outlander
novel, Dragonfly in Amber
in approximately 18 zillion ways. Only, you know. Vampires and witches and daemons. Oh my. There were a ton of cameos by famous historical figures because OF COURSE. Vampires don't just chill with chimney sweeps. They get all up in art and literature and philosophy and politics. They also adopt street urchins, but as much as I liked Jack, he's no Fergus. (From Outlander
, natch. My word this isn't very coherent if you haven't read every single book I've read, is it?)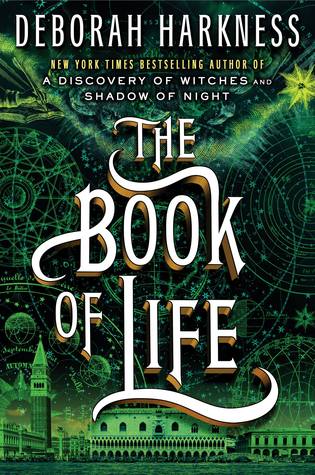 The Book of Life
was the final installment of the series, and while it contained elements I recognized from other series, none of the comparisons are as pronounced as with the first two books. In fact, it felt a little more spy thriller than supernatural time-traveling love story at times. Intrigue and justice and the righting of old wrongs all came into play.
I know this was meant to be a trilogy, but I kind of feel like Harkness left a number of loose ends that she could neatly dovetail into an offshoot series, prequel, or future installments. I'd probably read them if she wrote them. I'm not completely in thrall to the series, but I'd be willing to invest some more time in this world. If you're in the mood for the supernatural, it's definitely worth a read.
Talk to me, Bookworms! Have you read the All Souls Trilogy? Did you see the same parallels I did? What did you think?
*If you make a purchase through a link on this site, I will receive a small commission.*