Howdy Bookworms!
Back when I was blogging all the time I used to put together Top Ten lists weekly. There was a Top Ten Tuesday meme (which I think is probably still a thing?) where a theme would be selected and you'd choose your Top Ten for a given topic. I did so many of those that I got burnt out, especially when the topics started to get repetitive. That said, I've read a boatload of delightful romance novels in the past couple of years, most of which I never wrote about, and I'd like to give some of my favorite suitors a bit of credit. Let's talk about my favorite romance heroes, shall we?
Please note: while I still hold Jamie Fraser in the highest regard, I don't consider the Outlander
books to be "romance" in the strictest sense. They're a historical/sci fi/steamy/adventure mashup. In my personal narrow definition of "romance" as a genre, I need a guaranteed "happily ever after" at the end of a single book. Series can be linked together, but only insofar as we see happy couples we met earlier continuing to be happy. Not being shipwrecked, presumed dead, having their families ripped apart, etc.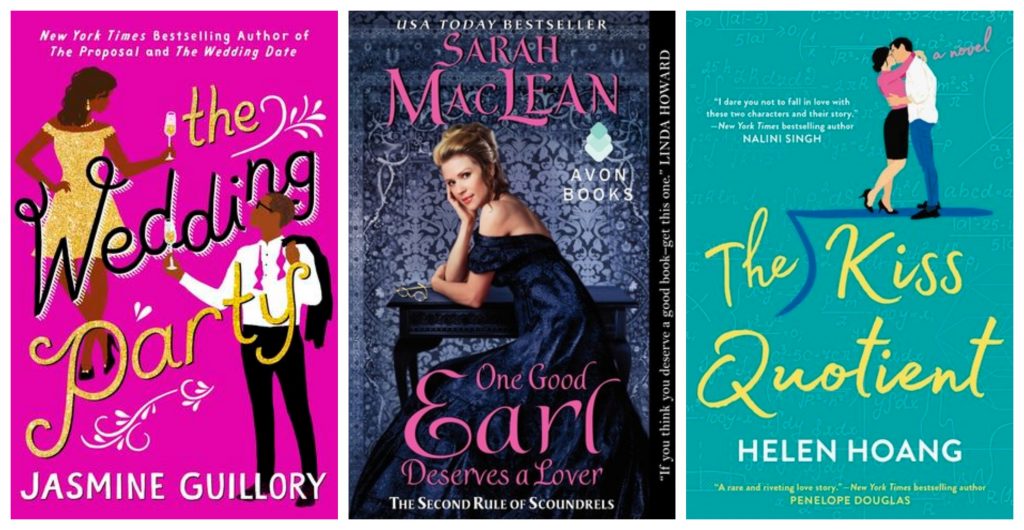 ONE: Theo from The Wedding Party
by Jasmine Guillory- Theo was the impetus for this entire post– I was reading another book recently and thinking about how much better Theo was at the uptight/well-dressed/driven-worker-bee vibe than that book's hero. Theo is BY FAR my favorite Guillory love interest. He's smart, he's stylish, he appears aloof but is a secret marshmallow. When he drunkenly showed off his N'Sync dance moves to Maddie, my heart was forever his. I'd also like to give a special shout out to Maddie, who shares my taste in pizza toppings. Pepperoni + Black Olive is the secondary true love story in this book.
TWO: Cross from One Good Earl Deserves a Lover
by Sarah MacLean- This is easily my favorite book of The Rules of Scoundrels Series thanks in large part to Cross being extremely swoonworthy. He's got a brilliant mathematical mind and a tortured past full of excesses that he's given up… But a bookish beauty wins his heart. Obviously. (Phillipa Marbury would be BFF with Minerva Highwood from Tessa Dare's Spindle Cove series, by the by. Is a crossover bestie novel too much to hope for? I bet there's a fandom somewhere shipping these two… I could get on board that ship.)
THREE: Michael from The Kiss Quotient
by Helen Hoang- He's an escort who falls head over heels for a his client, Stella, who happens to be on the autism spectrum. He's so patient and intuitive with her and her needs it's just heart melting- especially considering she's had some pretty terrible romantic experiences in the past. Plus, I'm a total sucker for the "sex worker getting the HEA" trope. I blame it on my early exposure to Pretty Woman.
FOUR: Logan from When a Scot Ties the Knot
by Tessa Dare- You knew I wasn't going to have a list like this without at least one dude in a kilt, right? Jamie Fraser is not the only swoony Scotsman in literature. The way Logan cares for his beleaguered troops is enough to endear him to me, but the way he fell in love through letters he was never meant to receive? The swoon is strong with this one.
FIVE: Samson from The Right Swipe
by Alisha Rai- I don't even like sports, but Samson is the most perfect cinnamon roll of a professional football player who has ever existed in fiction (and most likely IRL too.) He gave up his lucrative career to defend the noggin of his teammate (because CTE is no joke.) He's really good at apologizing and being decent. I love this guy.
SIX & SEVEN: Both Henry and Alex from Red, White & Royal Blue
by Casey McQuiston- When your romance novel stars an actual prince and the adorable son of the US president, you can't expect me to choose just one. Alex's saucy banter and Henry's proper Britishness gone awry make this one of the best books I read in 2019. Also? I totally want to live in this alternate political reality. History, huh? #LoveIsLove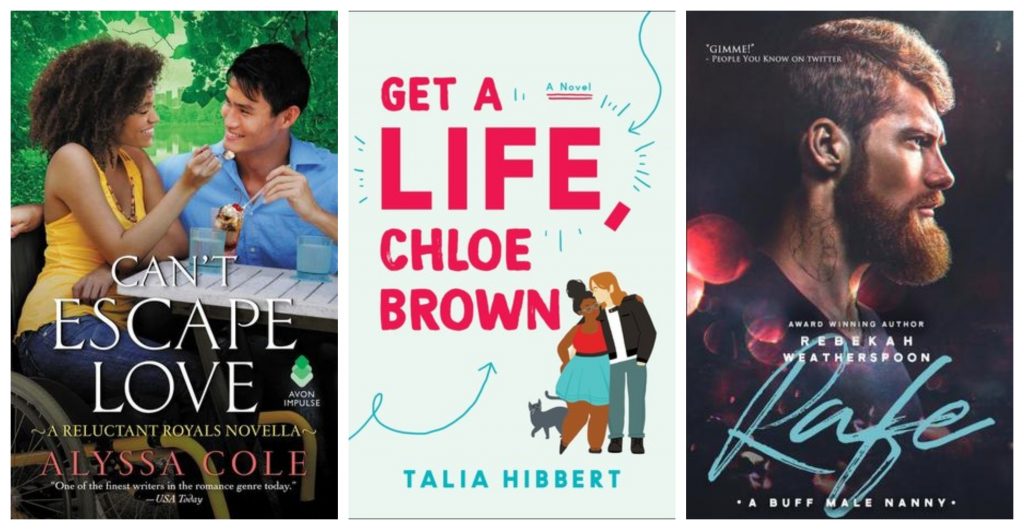 EIGHT: Gus from Can't Escape Love
by Alyssa Cole- I am endlessly smitten with the entire Reluctant Royals series, but Can't Escape Love
is a companion book with zero actual royals involved. Gus is obsessed with puzzles, super smart, and endlessly soothing to Regina. He makes delicious salad dressing. He cannot help but profess his feelings even when he knows it's too early and might make things weird. He's a gem and I love him forever.
NINE: Red from Get a Life, Chloe Brown
by Talia Hibbert- Sensitive artist with a history of being in a crappy, abusive relationship falls for sharp tongued woman with a chronic pain disorder. Much banter, extremely sexy, and there's a hilarious tree climbing rescue incident. Red is awesome with Chloe and he loves his mom. 10/10 would recommend.
TEN: Rafe from RAFE: A Buff Male Nanny by Rebekah Weatherspoon: I had this list mostly completed, and had planned to post for Valentine's Day, but I didn't get it finished in time. I realize now that it was clearly the universe telling me that I couldn't complete the list until I'd read RAFE: A Buff Male Nanny. Raaaaaaaaaaaaaaaaaaaaaaaaaaaaaaaafe: the buffest, male-st, nanniest of romance heroes. Looks like a Son of Anarchy, bakes like a son of Betty Crocker. Gentle with your kids, gentle with your heart, and as gentle (or not) as you desire in other aspects of life. Whew. Steamy steamy Rafe.
There we are, Bookworms. My Top Ten Romance Heroes are all present and accounted for. This list is likely to change over time because I'm definitely going to continue reading excellent romances, but my Top Ten Lists mean about as much as my Goodreads star ratings. Who are some of your favorite romance heroes? Or, just, like, favorite characters who aren't in romance novels (since I know romance isn't everyone's jam.) Tell me about it, Bookworms!
If you make a purchase through a link on this site, I will receive a small commission. Links in the above post direct to Amazon, but if you prefer to shop through local, independent book stores, please see the links below:
The Wedding Party
One Good Earl Deserves a Lover
The Kiss Quotient
When a Scot Ties the Knot
Red, White & Royal Blue
Can't Escape Love
Get a Life, Chloe Brown
Rafe: A Buff Male Nanny
Outlander