My Dearest Bookworms,
You know how I really love audio books? And how I also really love Hamilton
, and by extension, Lin-Manuel Miranda? I'm actually considering writing an entire post on the subject because I haven't been THIS fangirly since high school. Because I'm fangirling so hard, I was checking Lin-Manuel's IMDB just to see if he'd been in stuff I'd seen without me realizing it (which yes, yes that definitely happened.) BUT THEN. I saw that he was credited as having narrated some audio books. I remember seeing Aristotle and Dante Discover the Secrets of the Universe
by Benjamin Alire Sáenz floating around the blogosphere and thinking that I should read it one of these days, but when I saw that LMM narrated? It jumped straight to the top of the list.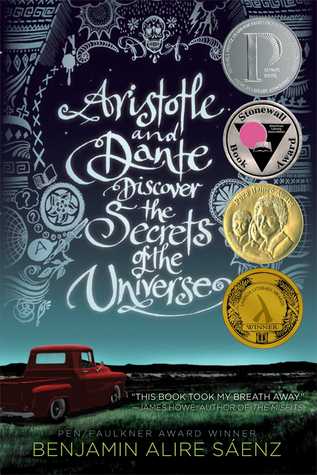 I'm just going to give you the abstract from Goodreads because I can't form a coherent synopsis of this book:
Aristotle is an angry teen with a brother in prison. Dante is a know-it-all who has an unusual way of looking at the world. When the two meet at the swimming pool, they seem to have nothing in common. But as the loners start spending time together, they discover that they share a special friendship—the kind that changes lives and lasts a lifetime. And it is through this friendship that Ari and Dante will learn the most important truths about themselves and the kind of people they want to be.
Holy crap. Holy freaking crap, you guys. How do I love this book? Let me count the ways! First, Sáenz absolutely NAILS teenagerdom. That summertime listless boredom? It brought me back in a big way. Second, I absolutely adored these kids' parents. They're not perfect by any means, but both sets are so loving and compassionate. I don't know why that struck me as so rare in a YA novel, but I wanted to give everyone a big fat hug. I can't really tell you some of the other reasons I loved the book so so so much because they'd be spoilers, so you're just going to have to trust me here. THEY ARE EXCELLENT REASONS.
I would have loved this book even if I'd read it with my eyeballs, but the fact that Lin-Manuel Miranda read me a story? Incredible. You guys! He casually dropped at least two mentions of Alexander Hamilton, which were written into the book and in no way referencing Hamilton
 the musical. It was so meta. LMM is a fantastic narrator (no surprise) and you could tell he adored the words he was reading which made it that much better. Although, he seems to adore a lot of things. Because he is basically the best humanity has to offer. Like, if aliens wanted to exterminate us? I think LMM could talk them out of it. (I pray nightly that he doesn't end up having some hideous dark secret or massive scandal somewhere down the line, because I just don't think I could handle having my heart broken like that. No pressure, Lin. But behave yourself… Mostly.)
Wow. It's been a while since I've been this gushy about a book. Fittingly, I'm wearing a t-shirt that says "hyperbole" with an exclamation mark graphic. I am VERY EXCITED about this one. Go forth and read Aristotle and Dante Discover the Secrets of the Universe. Or have Lin-Manuel Miranda read it to you. If you ask really nicely, maybe I'll do an interpretive dance of it for you. I hope you like tap!
Whew. Time to chat, Bookworms. What's the last book you were ridiculously enthusiastic about? 
*If you make a purchase through a link on this site, I will receive a small commission.*