Greetings, Bookworms!
You'll probably recall my giant rant about Scribd changing up its audio book program. As a result, I scoured my library for the oodles of expiring titles and prioritized those I simply couldn't live without hearing before they turned into pumpkins. I've been meaning to read The Miniaturist
by Jessie Burton for quite a while, and I'm so glad I decided to check this one out. Not only was it a great story, but the incomparable Davina Porter narrated (she's the one who reads all the Outlander
books and is beyond amazing.) Yay audio books! Boo Scribd for bursting my bubble! (I'm totally still bitter, Scribd!)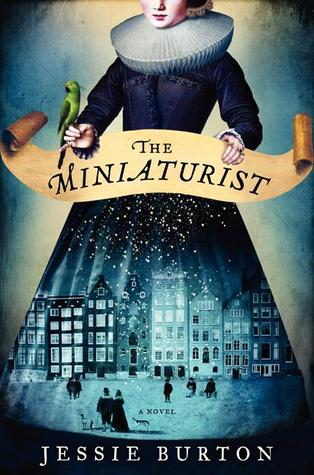 Nella Oortman is a mere 18 years old when she arrives in Amsterdam, the newly minted bride of merchant Johannes Brandt.  While Nella is thrilled to leave her rural home for the excitement of the big city, she soon discovers that her marriage isn't going to be what she expected. Johannes is incredibly distant, though when he does interact with Nella he is kind. His sister Marin, however, is even less welcoming.
Set adrift in an unfamiliar city, Nella is completely unmoored. Things begin to change when Johannes presents Nella with an unusual gift: a cabinet sized replica of their house. Nella is both intrigued and mildly insulted. I mean, a doll house?! That's somewhat less than romantic, and kind of weird, actually. Nevertheless, Nella enlists the services of a mysterious local miniaturist in order to furnish the house and finds herself pulled into the inner circle of the Brandt household and its secrets quite by accident.
The cover art for this novel is genuinely representative of this book. It's a pretty piece of historical fiction if there ever was one, and the narration of Davina Porter makes it even more magical. I found the story fascinating and loved the look inside the Brandt family. 17th Century Amsterdam was NOT the sort of place you wanted to be seen as different, that's for darn sure. While I enjoyed the novel, I really wish there had been a few loose ends tied up, particularly in reference to the title character, but all in all, it was quite a ride. If historical fiction is your jam, The Miniaturist
is certainly worth a read!
Talk to me Bookworms! Are any of you into tiny things? I've seen some impressive work done with miniatures, but I lack the patience to create my own and the funds to get into the hobby buying ready made. I'd love to hear from any budding miniaturists out there!
*If you make a purchase through a link on this site, I will receive a small commission.*