Happy Monday, Bookworms!
I'm feeling pretty accomplished today. That's right. I finally read a Maggie Stiefvater book. I'm not opposed to YA or anything, but after so many formulaic dystopias flooded the market, I got pretty picky about what I'd read. I've heard from a number of reliable sources (Jenny at Reading the End and Heather at Capricious Reader in particular) that Maggie Stiefvater is the bee's knees, so I had to find out what all the fuss was about. Thanks to my subscription to Scribd and all the audio books my brain can hold, I was able to try The Scorpio Races
on for size. Side note: Maggie Stiefvater totally composed the musical accompaniment for the audio book, which is darn impressive.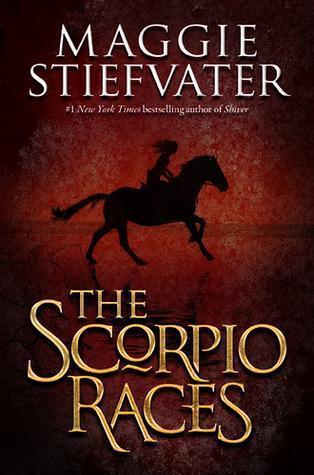 The Island of Thisby is famous for two things: water horses and the annual Scorpio Races. Water horses are basically what they sound like; horses that come from the sea. To be more specific, they're horses that come from the sea who would rather devour human flesh than oats and are nevertheless captured by islanders and ridden for sport. The Scorpio Races pit water horse against water horse in a combined horse race slash death match spectacle. Riding a water horse in this race is the ultimate extreme sport. Throats are ripped out on the regular. Sean Kendrick is 19 and a four time Scorpio Race champion. He's got a hand with the monstrous horses that inspires admiration and envy. Puck Connelly is trying her hand in the races for the very first time. She's also the first female ever to dare to do so. Both Sean and Puck embark on a journey they never expected, all while trying desperately to avoid being eaten by bloodthirsty horses.
The overall tone of this book felt very Neil Gaiman to me. That might be an unfair comparison drawn based on the fact that the actor who voiced Sean Kendrick sounded a bit like Neil Gaiman (which is a very, very good thing), but it was also dark and incorporated a lot of English/Irish folklore which is rather Gaiman-esque in itself. I though it was an inventive story, though I probably would have liked it more if I were a horse aficionado. Still, I'd totally read Maggie Stiefvater again. Her mind seems to be a dark and twisty place, but not in the way that makes me want to cower under the covers. I'd like to see what else she has to offer. If you're in the mood for something different, give The Scorpio Races a whirl. I'd love to hear your thoughts!
Talk to me Bookworms! Would you ever consider riding an animal you coaxed from the sea that totally wanted to eat you? (Spoiler Alert: My answer is a HELL NO. I won't even swim in water with fish. I'll wade in the ocean but when it comes to full immersion swimming, it's a pool or nothing. Fish seriously freak me out. And water horses? Um, no.)
*If you make a purchase through a link on this site, I will receive a small commission.*