Hello Bookworms!
Sometimes I need a break from heavy reading… Or heavy-ish reading. Aw hell. Let's be real. Sometimes I want to read a fluffy romantic comedy JUST BECAUSE. In case you've ever wondered if I listen to y'all when you suggest books to me, I offer today's discussion as proof. When I admitted I hadn't read any Sophie Kinsella books, Charleen of Cheap Thrills told me that her favorite was I've Got Your Number
. I remembered, and I read it…finally. We're not talking about timelines here, because that would just be embarrassing.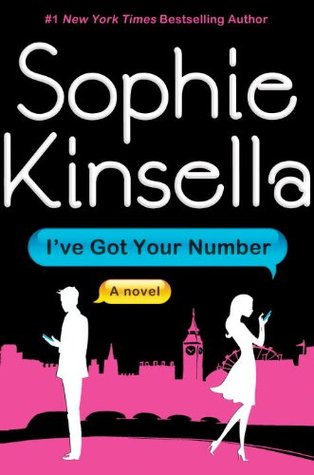 I listened to this book audio style, as I am wont to do, and OMG. Jane Entwistle, the narrator of the Flavia de Luce
series (review) read the book to me. She is the best, I just adore her voice. The only problem I had was in the beginning when I kept expecting Flavia-isms to pop up. Once I got past expecting gleeful explanations of chemical processes, I got swept up in Poppy's world.
Poppy Wyatt has lost her engagement ring. She was in the middle of a cocktail laden ladies' tea when a fire alarm blares and POOF. Ring gone. Expensive family heirloom ring. GONE. Because that will impress the super intimidating academic future in-laws. While Poppy's in the midst of panic and hovering over the hotel staff's search, her phone is stolen. Because of course. OF COURSE. When Poppy notices an abandoned phone in a trash can, she grabs it, hoping against hope that she can use it until she can replace her own phone. She needs to have a number in case her ring turns up, right?! Unfortunately, the phone's owner, business guru Sam Roxton, wants his phone back. Through a series of highly improbable but amusing events, Sam and Poppy's lives become hopelessly entangled.
The premise makes absolutely no sense given the ease with which phone numbers can be ported and stolen phones can be replaced, but doggone it, this was a fun story. Really, when have romantic comedies been realistic anyway? I'm pretty shocked that I've Got Your Number hasn't already been made into a movie, it has all the elements of the perfect Hollywood rom-com. Visions of Emily Blunt are dancing in my head, guys…
Let's talk about texting, Bookworms. Are you one of those people who would rather text than talk on the phone? (Heaven knows I am!) 
*If you make a purchase through a link on this site, I will receive a small commission.*