Greetings Bookworms!
I've been having such great fun with audio books these days, specifically audio books I download for FREE from my library. It's been kind of awesome to check out some older titles I wouldn't necessarily have devoted eyeball time to. Gosh I love audio books. I can do things and ALSO get books into my brain. Glorious. But, you know how it is. Sometimes you just don't want to write a whole review on one book, so I'm smushing several into a single post.
1. Pretty in Plaid
by Jen Lancaster- This book had highs and lows for me, but overall I thought it was a nice listen. Reminiscing about past fashion faux pas is something I can totally relate to, but being a risk averse worry wart, some of the shenanigans Jen got up to kind of boggled my boring mind. I still have nightmares that I get a 'C' my final semester of college thus destroying my Summa Cum Laude quest, so I simply couldn't FATHOM ditching class for weeks at a time.
2. Heartburn
by Nora Ephron- I didn't realize that this book was released the year I was born until after I'd finished it. Good news? It holds up AND it's narrated by Meryl Streep. Bad news? It's a little dated. It's hard to read modern-ish books sometimes without thinking "gah, just GOOGLE HIM! Where is your cell phone?!" You couldn't Google anything in 1983, and cell phones? Pfft. You could, however, type cookbooks on a sexy typewriter, so, you know. It wasn't all bad. It's just really weird to think of my lifetime as borderline historical fiction.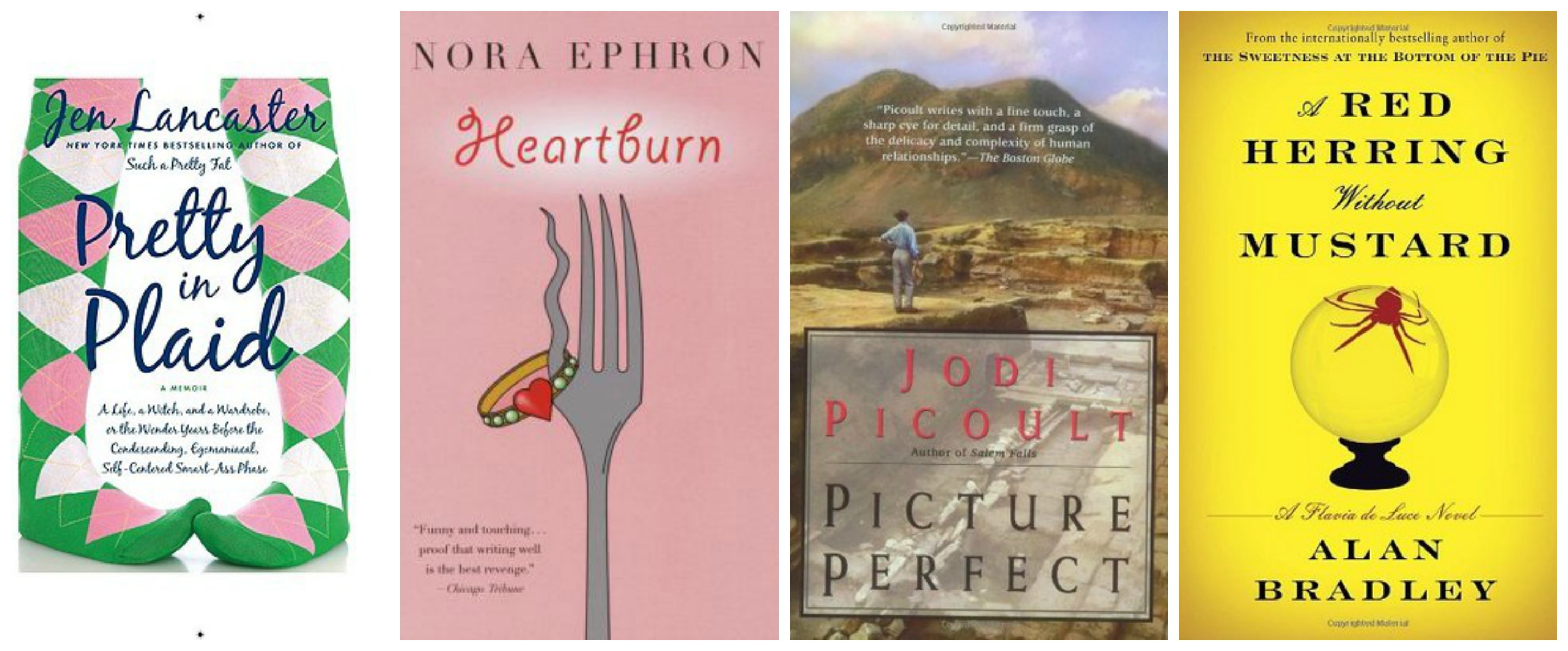 3. Picture Perfect
by Jodi Picoult- This book has kind of been haunting me since I finished it. I'm not sure how much to reveal without getting super spoilery, but I think it does a really good job of getting inside a messy relationship and the way people rationalize things to themselves. Plus, it rips a pretty big hole in fairy tale fantasies which I think needs to happen more. Marrying Prince Charming or a sexy billionaire or a movie star is no guarantee of a happily ever after. If you'll excuse me, I should probably go and tell some children the truth about the Easter Bunny because I'm THAT PERSON now. (Joking. Your children's fantasies are safe with me. Just channeling my inner curmudgeon.)
4. A Red Herring Without Mustard
by Alan Bradley- I never tire of Flavia de Luce stories, but I doubt I'll ever want to read one with my own eyeballs while Jayne Entwistle narrates the audio version. The utter glee she manages to inject into her voice when Flavia discusses chemistry is positively magical. I am sort of appalled at the way Flavia and her sisters treat each other though. I mean… Really?
 What are your thoughts, Bookworms? Have any of you read/listened to any of these? Weigh in!
*If you make a purchase through a link on this site, I will receive a small commission.*