G'day Bookworms,
Remember back to Valentine's Day when I crowd sourced a Top Ten Tuesday list of bloggers' favorite romances? One of the suggestions that came from Sarah of Sarah Says Read was for The Mad Scientist's Daughter
by Cassandra Rose Clare. I made a mental note to give it a whirl, and not long afterward it showed up as a Kindle daily deal, so I snapped it up.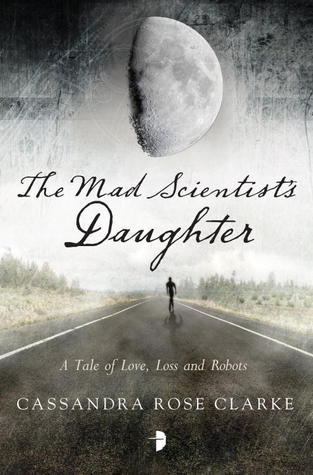 It's the future. Some sort of apocalypse has come to pass leaving the human race rather depleted. To make up for the lack of people to keep the world operating, science supplemented with androids. Of course, there's going to be a rogue scientist somewhere trying to push the envelope of android manufacturing. This led to the creation of Finn, the most human-like robot ever created.
Cat's father brought Finn home to their little cottage in the woods when she was 5. Her eccentric scientist parents weren't keen on sending her to the local public school, so they enlisted Finn as Cat's personal tutor.
Cat grows up with Finn as not only her teacher, but also as her closest friend. As she grows up things get… complicated. Kind of hard to have a straightforward love story when half of the equation is mechanical, you know?
The Mad Scientist's Daughter was certainly an unconventional take on a love story. It brought up all sorts of issues to do with discrimination and the difficulties with loving someone you're not supposed to love.
I wish I could say this book didn't creep me out on some level, but it did. Maybe it's just because it reminded me so much of that awful Robin Williams movie, Bicentennial Man… Maybe it's because Finn was less engaging than Iko, the robot BFF of Cinder. Maybe it's because I watched that weird episode of Jack Van Impe where he blamed "robits" for the fast approaching End of Days. LOL, nah it's not that. Still, it wasn't quite my cup of tea. That said, it could be yours. If you dig science fiction romance or scandalous forbidden love, The Mad Scientist's Daughter may just be your new favorite love story.
Tell me, Bookworms. Anybody else think the last time Robin Williams was fun to watch was in Mrs. Doubtfire
? Anybody else think the sequel they're working on sound like a horrendous idea?