Greetings Bookworms!
You know how I'm always raving about my IRL book club, My Neighbors Are Better Than Your Neighbors? I'm about to rave some more.  This month, in addition to our discussion of Reconstructing Amelia
 (my review) we decided to do a "My Favorite Things" party. We took a page out of the old Oprah handbook and decided to share stuff we love with each other. Each member purchased enough of her "favorite things" for everyone attending.
Fun right?! Since none of us live on Oprah's budget, we couldn't go around buying everyone cars. We decided to cap the spending limit on each favorite thing to $10. Each participating member purchased 6 of her favorite $10 things to share, and got 6 of the other's favorites in return. Soooo… You wanna know what we love, right?!
"A" is a big fan of bubble baths, so she hooked us all up with some delightful Ulta bubble bath… But what bubble bath is complete without Ghirardelli chocolate squares? No bubble bath I want to be a part of, I'll tell you that much. Aaaand because our book club apparently has a severe lip balm addiction (more on this later), she added a tube of Burt's Bees to the stash.
"C" is super adorable right now, with her teeny tiny baby bump. One of her favorite things was a colorful paring knife. (Don't piss off the pregnant lady, she will cut you!) She also included a big old Ghirardelli chocolate bar, because, well. Chocolate. (I should probably mention that "C" is pretty much the sweetest gal ever, she would not, in fact, cut anyone. That's part of why it makes me giggle so much, her tiny-ness and her Southern accent… The idea of her wielding a knife against anything other than a vegetable is pretty hilarious.)
"K" hosted this shindig in style! Her choice of favorite thing is a set of wine sealers– they seal out the air and keep the leftover wine fresh! Because leftover wine… That's a thing… I think? Seriously though, these ROCK.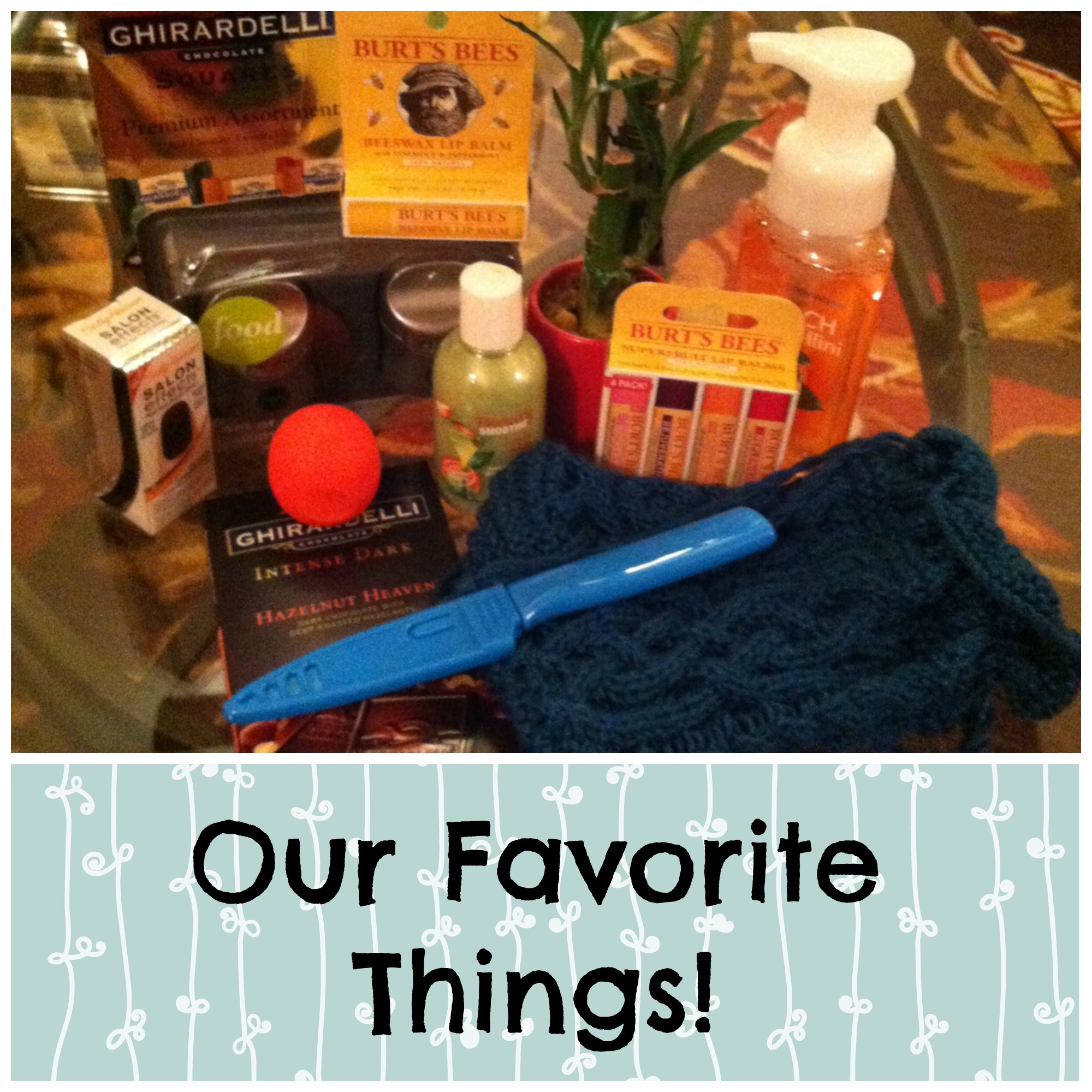 Have you ever done anything not-so-bookish with your book club? I want to hear all about it, Bookworms! Spill!
*I linked to some of our favorite things on Amazon, in case you want to check them out. I'm not sure I got everything perfectly right, but I tried. If you decide to buy anything I'll get a small commission, but mostly I just want to push lip balm at you. LIP BALM!*