Hiya Bookworms,
Just popping back in here after going radio silent for a few months. Life, you know? Anyway, Sammy is now in Kindergarten (I KNOW) and we're settling into new routines. But, we did something super exciting this weekend. I took Sammy to get his very own library card! I made sure to get my library card online shortly after we moved, but since I get all my library materials digitally, I hadn't yet been to this library in person. It's so great! There is a fabulous children's section with a play area, a used bookstore in the basement, and I'm sure we'll find lots of other treasures along the way. I have a vivid memory of my parents taking me to get my VERY OWN library card when I was 5 (it even had my middle name on it, it was VERY official), so it was fun to carry on the tradition. 
Along with his new card, Sammers got a voucher to choose a book to keep forever from the Friends of the Library bookstore. Sam chose the largest volume he could find, naturally, so we now have a new-to-us Dr. Seuss compilation of titles we didn't previously own. He also got a cool library tote and got to choose the color of his library card! Truth be told, Sam was way more interested in the play area and the iPads they had set up for kids' use than he was the books, but that was OK with me. I was able to sift through the stacks while he played quietly and picked out books we haven't yet read by some of his favorite authors. Once we got home, we had some big laughs with Pig the Pug and his adventures in being the worst.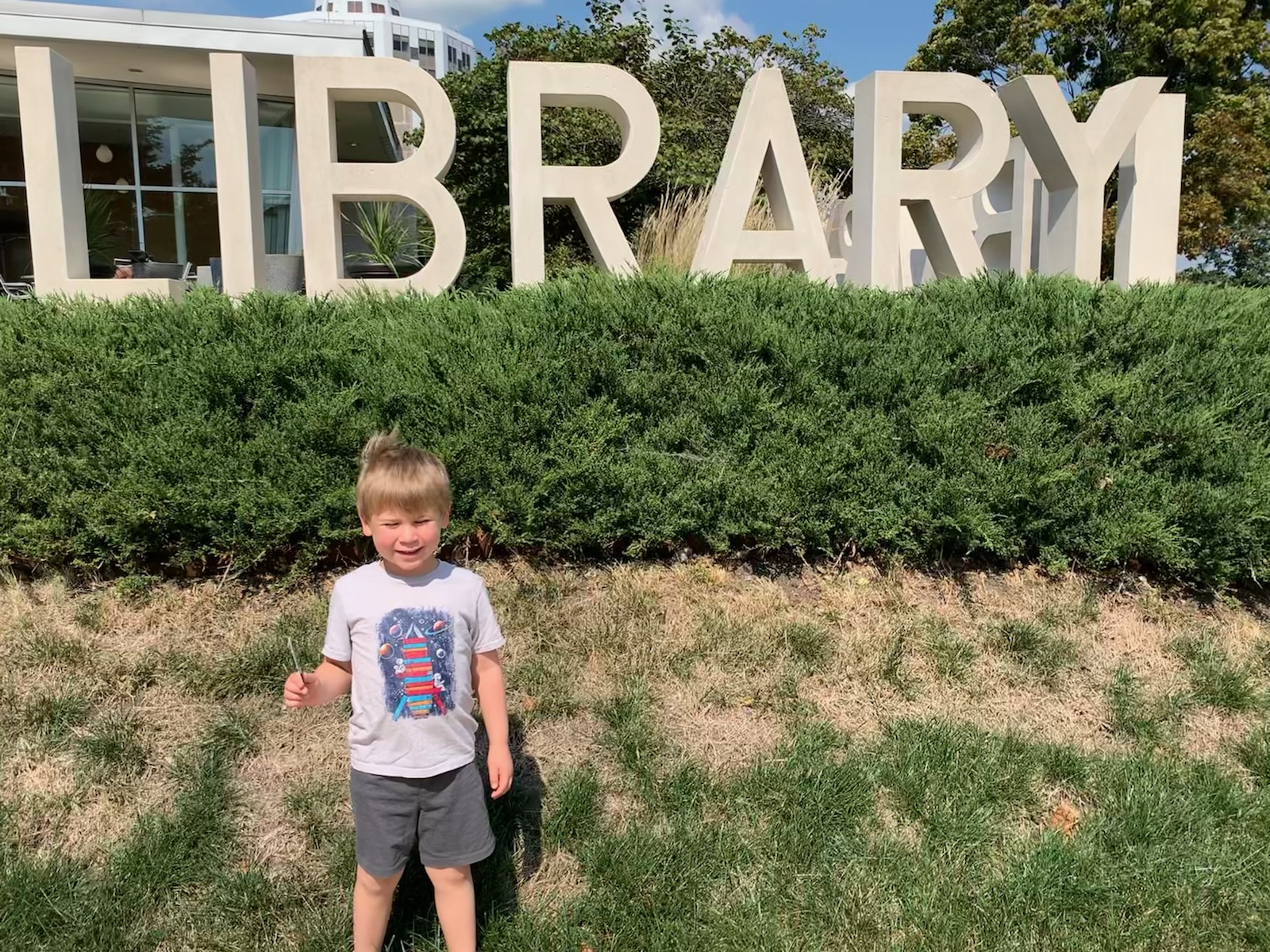 Anyway, it seems a fitting way to kick off Banned Books Week, celebrating our local public library. I'd like to go on record, yet again, saying that banning books is BAD and libraries are AWESOME. That's not to say I don't care what books my child has access to. I mean, I did end up putting my Walking Dead compendiums away in my closet since SOMEONE decided to start snooping around we already have to use "nightmare spray" before bed every night. And, since the little booger taught himself to read I may need to hide away some of my smuttier romances sooner than later, but I digress. The vast majority of attempts to ban books are not the obvious "5 years old is too young to read violent depiction of a zombie apocalypse" or "actually my kid shouldn't have access to this graphic alien romance until he's old enough to drive." Generally, attempts to ban books are attempts to silence marginalized voices, and that sucks. If I didn't already own a copy of And Tango Makes Three, I'd like to know it was available at the library. Because those gay penguins wanted a family so badly they tried to hatch a rock, dangit. (I don't get misty eyed every time I think about that, or anything. It's fine. I'm fine.) So, anyway. Hi again. I missed you.
If you make a purchase through a link on this site, I will receive a small commission. Links in the post above direct to Amazon, but if you're interested and in a position to do so, please consider making a purchase from a local independent bookstore. IndieBound and Bookshop make it easy to do just that without having to leave your home!