Hiya Bookworms!
Y'all know by now that I'm an avid penguin enthusiast, and that I shamelessly roped my child into the obsession (check out his first Halloween and nursery if you require proof.) Sammy has a MASSIVE book collection, and a large swath of that is dedicated to our flightless feathered friends. I know what you're thinking. "How many penguin books can there possibly be? And on how many subjects? There are only so many cutesy rhymes one can make with 'waddle'!" But you, my bookish friend, would be incorrect. Lo, there is a penguin book for EVERY occasion and learning opportunity. Lest you doubt me, I've complied a list (which is by no means exhaustive) of some very excellent children's books featuring penguins. Prepare yourselves: it's unbearably cute.
Penguins Teach Science: I wish I could find my copy of If You Were a Penguin
by Wendell and Florence Minor (review)! I misplaced it long before Sammers was born, sigh. It's such an adorable book full of rhymes and penguin facts. I'm sure it's packed away in a box somewhere that will turn up eventually, but for now, I am bereft. Luckily, we have another great option for fun penguin facts and science tidbits on hand: Penguins, Penguins, Everywhere!
by Bob Barner. The illustrations are bright and fun, though I confess I prefer the illustrations in If You Were a Penguin. Curse my absent-mindedness!
Penguins Whose Parents Take Business Trips: Love, Mama
by Jeanette Bradley is a sweet little story featuring a young penguin whose mother goes away on a business trip. I love that the mama penguin appears to be a scientist- the illustrations suggest she's on some sort of research expedition. I also love that this book portrays the mama penguin as the one on a work trip while the daddy penguin holds down the fort. And, while the baby penguin and mama penguin miss each other, they're reunited at the end. This would be a great addition to the library of any toddler with parents who travel for work! (I do not have to travel for work, but Jim occasionally does. Sam and I like to read this one when he's out of town. I think it would be helpful for kids who are anxious about being away from their parent/caregiver for any length of time.)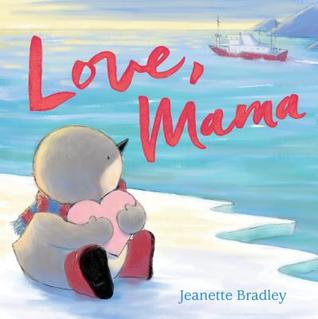 Penguins Teach Basic Skills: Sarah Aspinall has a charming series of books tackling basic toddler skills including Penguins Love Colors
, Penguins Love Their ABC's
, and Penguins Love Counting: Let's Make Snowmen (I can't find a shopping link for this anywhere, sorry! I bought it at a Scholastic book fair- what a rush!) There are six penguins (one named Broccoli!) who get up to all sorts of shenanigans while learning. Sam's particularly fond of Penguins Love Colors
, and really digs that the book sort of breaks the fourth wall (is that a thing in books the way it is in TV?). It encourages audience participation- these would make AWESOME choices for library/daycare story times.
Penguins Have All the Feels: Grumpy Pants
by Claire Messer follows a penguin who has had a particularly rough day. We don't know why the penguin is so upset, but neither does the penguin. This is a great book to help teach toddlers about moods and feelings. It also encourages them to take baths to wash away the grumpiness, and that's never a bad thing. A nice bubble bath has been known to lift my spirits too!
Penguins Offer Companionship: Your Personal Penguin
by Sandra Boynton is adorable. I highly recommend looking up the song before reading it- if you're anything like me, you'll end up sing-reading. The premise of the story is that a penguin desperately wants to become BFF with a hippo. Because why not? The penguin spends the book trying to convince the hippo that they should be platonic life partners. As an added bonus, the song was performed by none other than everybody's favorite Monkee Davy Jones (RIP) so it's bouncy and cute.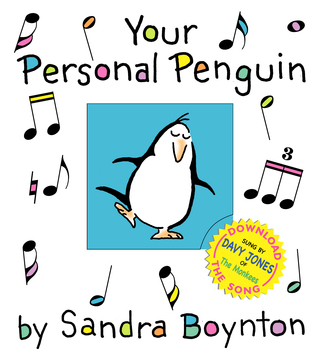 Penguins Teach Manners: Penguin Says "Please"
by Michael Dahl, Illustrated by Oriol Vidal teaches the little ones how to ask for things, rather than demanding. The Mama penguin in this book is very patient, but she's not going to be ordered around. This little penguin needs to say "please!" And so does my toddler. He'll say "please," but it's often in a heart wrenching and plaintive wail. Like "pleeeeeeeeeeeeeeease don't make me go to bed, you absolute monster of a mother." Or, um, something like that.
Penguin Moms Who Just Need a Minute: Baby Penguins Everywhere!
and Baby Penguins Love their Mama
by Melissa Guion are super cute books and both of them feature an overwhelmed Mama penguin taking a time for herself. In one, she even takes a NAP! It's wonderful! I think it's great for kids to see that their caretakers are human too and might need a little rest from time to time.
Penguins Teach About Adoption and/or Same-Sex Parent Families: I couldn't make a list of penguin books for all occasions without bringing up the one about the same-sex penguin couple who want to have a family (oh, my soft, squishy heart!) The two male penguins fall in penguin love and try to hatch a rock. When the zookeepers see this, they give the couple an egg that's been rejected by its parents to raise and, voila! And Tango Makes Three
by Justin Richardson and Peter Parnell (review) is often banned and challenged which irks me for a number of reasons. I mean: It's a true story, LOVE IS LOVE, and while parents can (and should) monitor and approve what their own children read, they have no business denying access to other people's children. But I digress. I haven't read this one with Sammy yet simply because it's a lot more text-heavy than most of the others on this list. He's got a pretty good attention span for 2 and a half, but this one's geared toward more of a kindergarten crowd, I think. Still, it's a wonderful and penguiny way for kids to learn about adoption and same-sex parent families.
Would it surprise you to know that this is not an exhaustive list of our penguin literature? I could write so many penguin kid book posts. And I reserve the right to do so. There is a zero percent chance of me parting with any of these books once Sammers outgrows them. I shall be the curator of my own private penguiny library and it will only be, like, medium weird.
*If you make a purchase through a link on this site, I will receive a small commission. Links within the above text direct to Amazon, but if you prefer to shop through local, independent book stores, please see the links below*
If You Were a Penguin
Penguins, Penguins, Everywhere!
Love, Mama
Penguins Love Colors
Penguins Love Their ABCs
Grumpy Pants
Your Personal Penguin
Baby Penguins Love Their Mama!
Baby Penguins Everywhere!
And Tango Makes Three