Howdy Bookworms!
I've been reading and listening to oodles of books lately, but oddly, all I want to write about are my favorite books to read with Sam. Since I rarely write anything these days, I thought I'd just run with it. Sammers is 8 months old (already?! HOW DID THAT HAPPEN???) but since he's still, you know, a baby who can't actually say intelligible words, I get to choose our bedtime stories every night. Thanks to our extremely generous friends and family (and occasionally Mom's impulse shopping) Sammers has a very impressive book collection. Still, there are a few that I choose to read over and over again simply because I happen to love them. (Don't worry, I'll do another post specifically featuring our large collection penguin books one of these days, but today we're penguin free.)
The The Pout-Pout Fish
by Deborah Diesen, pictures by Dan Hanna: This is the MOST fun to read out loud. Remember when Ludacris rapped Llama Llama Red Pajama
? (If not, check it out HERE) That's an amazing book and a super fun rap, but I'd love to see what a rapper would do with The Pout-Pout Fish (specifically, I'd like to hear what Lin-Manuel Miranda would do with The Pout-Pout Fish) – it's got creative vocabulary and great rhythm. "Kaleidoscope of mope" is practically a Shakespearean insult. I've seen all kinds of statistics that say kids should be exposed to a certain number of words by a certain age, and I can't help but think The Pout-Pout Fish
should be on every kid's book shelf simply because the vocab is such a treat.
I Love You, Stinky Face
by Lisa McCourt, Illustrated by Cyd Moore: If you're familiar with the old standards, this book's structure is very similar to the classic The Runaway Bunny by Margaret Wise Brown (of Goodnight Moon
fame, natch). A little kid being tucked into bed asks his mother if she'd still love him under a number of rather outlandish circumstances, namely if he were a skunk so stinky that his name was "Stinky Face." I'm rather prone to using such nicknames as terms of endearment (my poor son is often called "Stinky Pete" or "Grumpy Gus" depending on his mood or the state of his diaper) so I found the book's title especially appealing. Plus, it gives me the opportunity to do different voices for the mother and son. It's just plain fun to read.
The Wonderful Things You Will Be
by Emily Winfield Martin: This book will hit you right in the parenting/aunting/caregiving feels, a la Oh, the Places You'll Go! The illustrations are beautiful and the message is so, so sweet. "When you were too small/ To tell me hello,/ I knew you were someone/ I wanted to know." Just pass me the box of tissues, okay? This book is an awesome choice for a baby shower gift or a graduation present. Our copy came from one of our showers, and I'm going to have to go back and check the inscription to see who sent it so I can send another thank you note.  Because reasons.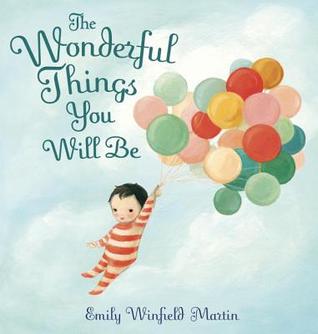 This is just a tiny sample of the many excellent books on our shelves, but they've been in heavy rotation for bedtime stories of late. What are some of your favorite children's books, Bookworms? This dude is always interested in new recommendations!
*If you make a purchase through a link on this site, I will receive a small commission.*