Greetings, Bookworms!
The fact that it's cold and gray doesn't appear to have had the desired effect on my blogging output. So much for that theory. I'm still reading, of course, in between bouts of hibernation and snacking. Yes, I'm probably part bear. Let's not make a big deal out of it, okay? Anyhow, a while back I read A Man Called Ove
by Fredrick Backman (review) and really dug it, so I thought I'd check out some more of his work. That's how I came to read Britt-Marie Was Here
.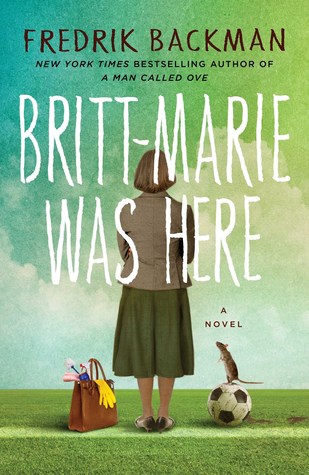 Britt-Marie is sixty three years old. She's not difficult, she just happens to like things a certain way. A well organized cutlery drawer and a thorough understanding of the virtues of bicarbonate of soda (baking soda) are key to a proper life. Kent never fully appreciated the extent to which Britt-Marie kept his life in order, unfortunately, and she's simply had enough of their loveless 40 year marriage. Once she's left, she takes a job the only place she can find, the rather derelict town of Borg. It was once a thriving town with a large trucking company, but it was hit very hard by the financial crisis. Britt-Marie begins work attempting to bring order to the soon-to-be-demolished recreation center, and soon finds herself somehow coaching a youth soccer team.
Fredrik Backman has the market cornered on curmudgeonly older Swedes with hearts of gold, let me tell you. Over the course of the book, we learn a lot of the circumstances that shaped Britt-Marie into the woman she became, and we are privileged to witness the circumstances that surround her metamorphosis. I mean, she ends up coaching soccer, for heaven's sake. It's adorable.
I must admit that I was somewhat surprised by the plot of this book. For some reason, I never think of a country like Sweden having any problems. It's one of those countries that always seems to be topping the "best countries to live in" lists. I just never thought "oh hey, I bet there are economically depressed areas of Sweden that are plagued with crime, unemployment, and general discontent." Because I'm incapable of recognizing complexity, or something. Actually, I've got a quote from the book that totally works right here. Ahem: "Societies are like people in that way. If you don't ask too many questions and don't shift any heavy furniture around, there's no need to notice their worst sides." You should probably read this book. It's a delight. Britt-Marie Was Here
– check it out!
Talk to me Bookworms! What's the first thing you think of when you think of Sweden?
*If you make a purchase through a link on this site, I will receive a small commission.*