How Goes It, Bookworms?
There's no set formula that's going to guarantee I pick up a book, but pitching me a book that's historical fiction about a troupe of sisters performing a Vaudeville acrobatic act is about as close as you can get. Needless to say, when I was approached about The Tumbling Turner Sisters
by Juliette Fay, I couldn't say "YES PLEASE" fast enough. (I always say "please" and "thank you", despite my self-proclaimed bad manners.) *I received a complimentary copy of this book through the publisher for review consideration. You'll get my honest opinion whether you want it or not.*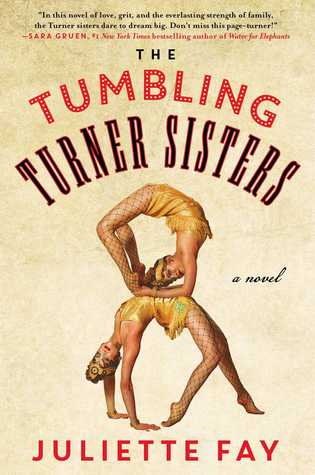 1919 marks the beginning of some tough times for the Turner family. The patriarch is a low paid boot-stitcher in Johnson City, New York, until he is injured and unable to work. The four Turner daughters and their parents have always lived on the edge of disaster, but this loss of income devastates their precarious balance. Their mother decides that Vaudeville is the answer and sets about grooming her daughters for the stage in a hurry.
The girls cobble together an acrobatic act that lands them enough paying gigs on the Vaudeville circuit to keep the family from being evicted. Traveling from town to town on the train also affords Gert, Winnie, Kit, and the recently widowed Nell a sense of freedom they'd never known at home. They meet a host of fascinating characters and performers along the way, as well as being exposed to the seedy underbelly of show business.
Gaaaaah there is almost nothing I love more than tales of old-timey show business! I positively gobbled this novel up. Fay did a fantastic job of incorporating real-life events into the narrative and made the story sparkle with life and energy. I loved every little bit of this book, from the painfully cheesy jokes the performers would tell to the characters' romantic entanglements. Heartbreak and hilarity abound.
I did, however, have one beef. I live in Peoria, IL. The phrase "Will it play in Peoria?" (it's a famous expression, I swear) comes directly out of the Vaudeville era and references the fact that the town in which I live is a big ol' bag of middle America. An act could play well in NYC, but that didn't mean it would work everywhere. Peoria, however, represented the median sensibility of all the folk in the land. The Turner sisters were mentioned visiting two other Central Illinois towns (Galesburg and Champaign) but neither my town nor our little catch phrase got a mention! I'm not going to lie, I feel kind of slighted, you guys.
All that nonsense aside, I loved the book. If you are in the mood for historical fiction and are even half as fascinated as I am by Vaudeville, you should check out The Tumbling Turner Sisters
.
Talk to me Bookworms! Does your hometown (or the town you live in, I guess, seeing as I'm not originally from Peoria) have a claim to fame? I want to hear about them! The weirder the better!
*If you make a purchase through a link on this site, I will receive a small commission.*