Happy Monday Bookworms!
Let me tell you a story about bobsledding. No, not THAT story about bobsledding (I'm assuming you immediately thought of the classic and heartwarming film, Cool Runnings
. That's where my head went, anyway.) But I'm talking old school bobsledding. Back when it was all sexy and dangerous. Oh yeah, you didn't know that bobsledding was sexy and dangerous? Well you WOULD know that if you'd read Speed Kings: The 1932 Winter Olympics and the Fastest Men in the World
by Andy Bull! *I received a complimentary copy of this book from the publisher for review consideration. You needn't worry about a biased review though. I never, ever lie about bobsledding. Ever.*
Whenever I think of Olympic athletes, I think of people who have trained since childhood in their given sport. I think of athletes so focused on the quest for the gold medal that they forgo traditional schooling and miss their proms in exchange for private tutoring on planes between competitions. The team that would eventually become gold medalists at the 1928 and 1932 Winter Olympic games in bobsledding were anything BUT the athletes I imagined. They were, in the immortal words of Maya Rudolph's character in Bridesmaids
"a stone cold pack of weirdos." Here's what the Goodreads synopsis had to say: "There was Jay O'Brien, the high-society playboy; Tippy Grey, a scandal-prone Hollywood has-been; Eddie Eagan, world champion heavyweight boxer and Rhodes Scholar; and the charismatic Billy Fiske, the true heart of the team, despite being barely out of his teens." As you can imagine, bobsledding is a mere sliver of the story surrounding this charismatic crew.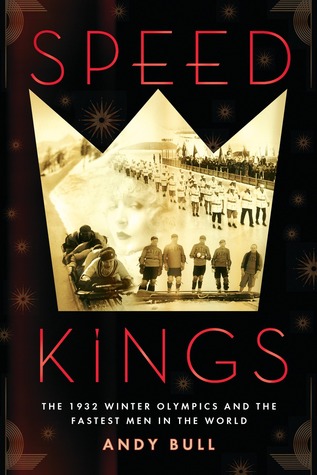 So, Katie, what did you think of Speed Kings: The 1932 Winter Olympics and the Fastest Men in the World
? Thoughtful of you to ask, Katie! It took me longer to read than I expected, but that's virtually always the case when I read non-fiction, no matter how interesting the subject matter. This book wasn't what I expected at all, but it was pretty awesome. I mean, do you have any idea how dangerous bobsledding can be? Or that Hollywood has been a crazy bag of scandal since the dawn of time? Or that the dude who invented the Dewey decimal system was kind of a horrible human being? All sorts of craziness goes down in this book. But you don't have to just take my word for it. The awesome folks at Avery Books are sponsoring a giveaway! Enter below to win!
*If you make a purchase through a link on this site, I will receive a small commission.*