Greetings Bookworms!
It's always a good day when we've got a new Margaret Atwood novel to discuss, isn't it? She's back and doing what she does best, dystopia-ing it up. In her latest novel, The Heart Goes Last
, Atwood explores many of the themes that made The Maddaddam Trilogy
 (review) and The Handmaid's Tale
 (review) so doggone awesome. Let's talk about it, okay? (Like you have a choice in this. Ah the beauty of blogging. I'm gonna tell you whatever the heck I want. You've got the option to stop reading, of course, but why would you? I mean, MARGARET ATWOOD!) *I received a complimentary copy of this book from the publisher for review consideration. Opinions expressed are not tarnished, etc. etc.)*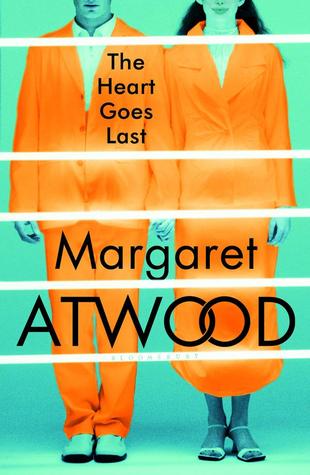 The US has suffered a massive economic crash and devolved into a second Great Depression (or worse, hard to say.) Charmaine and Stan have gone from a life of relative luxury with two steady incomes and owning a home to living in their car and eking out a meager existence on the tips Charmaine receives tending bar. They live in constant fear thanks to rampant crime and are at the end of their ropes. When they see a commercial touting a new social experiment, they jump at the chance to have gainful employment, regular meals, and a safe place to sleep at night.
The tradeoff is that residents of this little utopia have to spend alternating months as prison inmates. The town's entire economy is based on the prison, so the inmate aspect is critical. It seems to be going fairly well, until Stan and Charmaine (unbeknownst to each other) develop romantic obsessions with their alternates (AKA, the people who live in Charmaine and Stan's house while they're incarcerated, and vice versa.)
The Heart Goes Last is an Atwood dystopia, so you KNOW it doesn't stop at obsessing over the alternates. Once again I gleefully followed the white rabbit down the twisted rabbit hole Atwood created and I loved every minute of it. Read it, read it, read it!
Tell me something, Bookworms. Do you think you'd strike the bargain Stan and Charmaine did and move into a weird prison community, considering the super sucky alternative?
*If you make a purchase through a link on this site, I will receive a small commission.*