Howdy Bookworms!
I'm running behind blog wise so I thought I'd tackle the super fun 20 questions game I saw Jen at
The Relentless Reader
complete a while back. Everybody loves 20 questions, right?!
20 Questions About Me:
1. HOW TALL ARE YOU?
5'3 and a half. The half inch is very important to me. I typically round up and tell people I'm 5'4 because it's weird to claim the half inch when you're over the age of 9.
2. DO YOU HAVE A HIDDEN TALENT?
Hmmmm. I'm actually really good at hula hooping. Not like, circus caliber hula hooping, but I'm pretty confident I could win a contest at a company picnic.
3. WHAT IS YOUR BIGGEST BLOG-RELATED PET PEEVE?
Like that I do or that other people do? I've been so awful about reading other blogs recently that I can't even think of complaints. How about this? I spent my evening working on a post that I didn't realize I couldn't post until next week anyway? That's kind of annoying. But really, I think we're all winning, because me interviewing myself is highly entertaining. To me.
4. WHAT IS YOUR BIGGEST NON-BLOG RELATED PET-PEEVE?
Personal space. Lately this has been bugging me at the gym. Like, I am going to sweat and be repulsive and I really just want a three foot radius so I don't have to worry about bumping into people. Invasion of my space (even though I KNOW I'm not entitled to it, especially when a class is full) just bugs me. Or, like, during the running track of BodyAttack there are always a couple of middle aged dudes who feel the need to run super fast and like try to win. There just isn't any "winning" in running laps during an aerobics class, okay? Nobody is impressed!
5. WHAT'S YOUR FAVORITE SONG?
I don't know that I can claim a favorite song. Is that bad? How about "our song?" My husband and I claim "
The Wreck of the Edmund Fitzgerald
" by Gordon Lightfoot as "our song" because it's the least appropriate and least romantic song ever. Of course, I secretly think that "our songs" are "
Romeo and Juliet
" by Dire Straits (because it's pretty), "
The Way I Am
" by Ingrid Michaelson (because it's adorable), and "
True Companion
" by Mark Cohn (because I'm a sap and attended far too many weddings.)
6. WHAT'S YOUR FAVORITE ETSY SHOP?
7. WHAT'S YOUR FAVORITE WAY TO SPEND YOUR FREE TIME WHEN YOU'RE ALONE?
Reading, obviously. I also like to soft-shoe dance in my kitchen.
8. WHAT'S YOUR FAVORITE JUNK FOOD?
Nacho Cheese Doritos are my dietary kryptonite. I can't keep the darn things in my house because I can't just eat a few chips, I eat like half the bag. It's highly detrimental to my quest to keep my pants fitting.
9. DO YOU HAVE PETS?
Nope. Unless you count my husband. But he's like a super clean pet who is really fond of windex, so…
10. WHAT ARE YOUR FAVORITE FICTION AND NONFICTION BOOKS?
Ha! No. That I cannot tell you. All time favorites are super impossible. I can give you two that I love though. Will that do?
11. WHAT'S YOUR FAVORITE BEAUTY PRODUCT?
I looooove
EOS lip balm
and
ELF eyelid primer
. Because APPARENTLY I only like beauty products by companies with three letter acronym names beginning with "E."
12. WHEN WERE YOU LAST EMBARRASSED?
Oh heavens. It happens all the time. Actually, I tripped rather spectacularly last night on a stroll through my neighborhood. Thanks to my cat-like reflexes I was not injured, but it wasn't my most graceful moment.
13. IF YOU COULD DRINK ONE BEVERAGE FOR THE REST OF YOUR LIFE, WHAT WOULD IT BE?
Water. I'm so freaking boring. I just really like being hydrated, okay? And this is the rest of my life we're talking about!
14. WHAT'S YOUR FAVORITE MOVIE?
Mary Poppins. I usually turn it off before they get to the bank, though, because it used to scare me. Besides, all the best parts are at the beginning. The chalk painting? The floating laughter tea party? The dancing penguins?! Awwww yeah.
15. WHAT WERE YOU IN HIGH SCHOOL? PROM QUEEN, NERD, CHEERLEADER, JOCK, VALEDICTORIAN, BAND GEEK, LONER, ARTIST, ETC?
Hmmm… I was pretty nerdy, pretty broody, and I took ballet lessons. An enigma wrapped in a mystery swathed in very large pants was high school Katie.
16. IF YOU COULD LIVE ANYWHERE IN THE WORLD, WHERE WOULD YOU LIVE?
I am SUCH a chicken. I get sweaty palms when I think about uprooting from my current surroundings. It's not because I'm just THAT in love with Central Illinois, but I don't do change particularly well.
17. PC OR MAC?
I always had Macs growing up. Hubs still uses a Mac for most things (esp video things) but I do most of my blogging and whatnot on a PC.
18. LAST ROMANTIC GESTURE FROM A CRUSH, DATE, BOYFRIEND?
This isn't the most recent romantic gesture, but it's come up a couple of times recently and it bears mentioning again. For my
30th birthday
Hubs took me to meet a penguin in real life AND bought out the whole penguin encounter so it was just the two of us and the penguin. It was pretty great.
19. FAVORITE CELEB?
Amy Poehler. She's my spirit animal. (I am keeping Jen's answer because it is perfection.)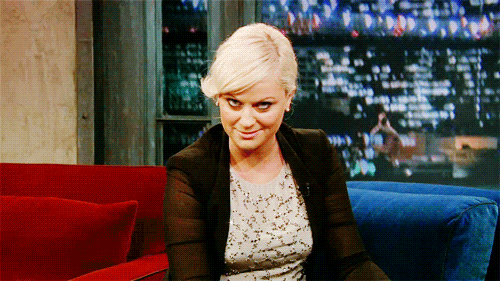 20. WHICH BLOGGER DO YOU SECRETLY WANT TO BE BEST FRIENDS WITH?
Oh man. This is a tough question. Mostly because I actually met and became friends with some of the bloggers I admire most (
Filing Jointly
and
Pocketful of Joules
, I'm looking at you!). That, or I was friends with them before the whole blogging thing even happened (
Quirky Chrissy
.) There are a ton of book bloggers I'd love to pal around with whom I've yet to meet, but I feel like putting that level of creepiness out on the internet would be weird. They're not famous per se, they're just awesome.
Talk to me, Bookworms. Anybody else feel like over sharing? I'd love to know more about you! I also want to know if anybody wants to secretly be Best Friends with me. I'm open to the idea. You really can't have too many friends. 
*If you make a purchase through a link on this site, I will receive a small commission.*