Salutations, Bookworms!
Let's talk about Jane Austen. I love her to pieces, but she only wrote six novels and a handful of short stories. Six novels! What is one to do once one has finished ALL THE AUSTEN? I have good news for you, my fellow Austen-ites. There are a lot of other Austen nerds. Austen nerds who have written Austen-inspired books. I made a list for you. You can thank me later.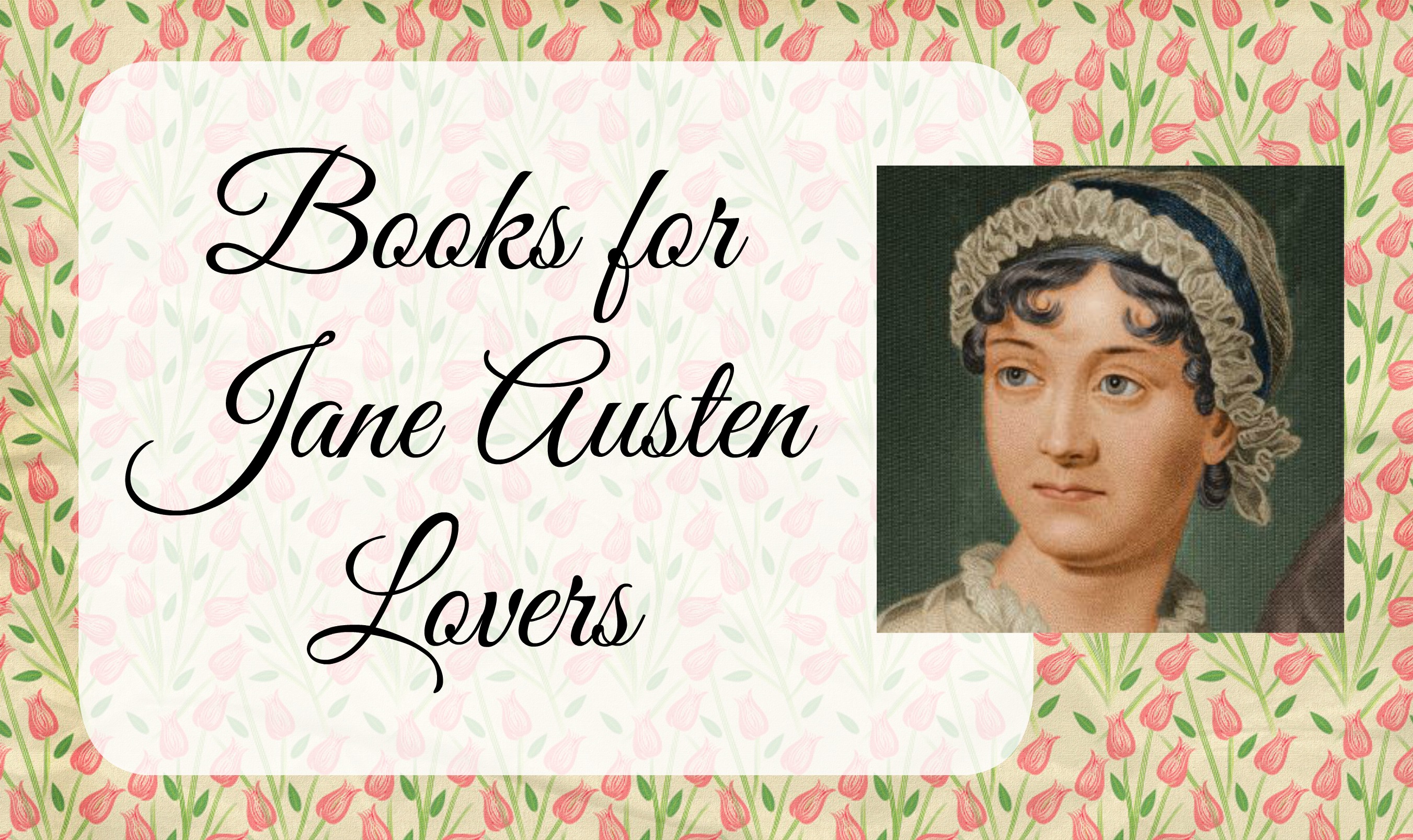 1. Longbourn
by Jo Baker (review): This book might be my favorite on the list. It's essentially Pride and Prejudice, from a servant's perspective. I saw Jo Baker speak about the book (and she was SO NICE!) and she said that you could read Pride and Prejudice
and Longbourn
 together and basically follow a character out of a room from Pride and Prejudice and see what they do below stairs in Longbourn
. It's a fantastic book, I can't recommend it enough.
2. Confessions of a Jane Austen Addict
by Laurie Viera Rigler: This book isn't among my favorites ever, but if you're in the right mood for it, it can be fun. It's basically a Freaky Friday
scenario in which a modern woman who is obsessed with Jane Austen switches brains with a woman from Regency England. My favorite bit about this book was when the narrator discusses how dang stinky everyone is in the absence of deodorant and indoor plumbing. Details like that take some of the romance out of my daydreams and make me happy to live in the here and now.
3. The Jane Austen Book Club
by Karen Joy Fowler: A group of people form a club specifically to read all Jane Austen's novels. How much fun would that be?! The book is a look at those in the club, but there's obviously a good dose of Austen-licious-ness, so you know it's a good time. Plus, one of the club members (a dude, no less) goes the extra mile and reads The Mysteries of Udolpho
. I can just imagine Catherine Moreland clapping her hands with glee at the thought!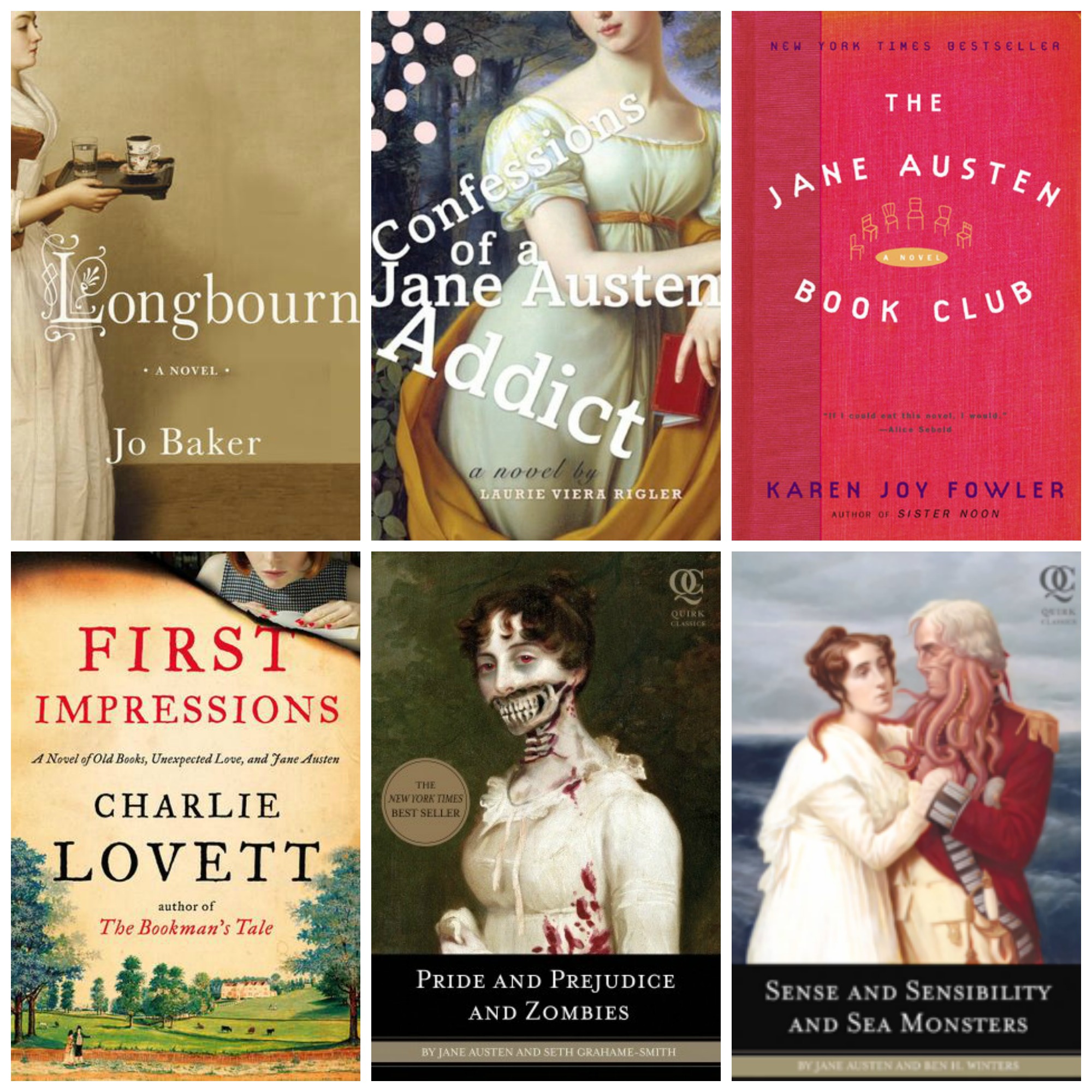 4. First Impressions
 by Charlie Lovett (review): For those who love stories that tackle the origin of books, this is a big winner. This book gives a double dose of book nerd glory with a glimpse into the world of rare books AND an imagining of Jane Austen's inspiration and writing process. Really, though. Can you imagine writing an entire novel with a quill? That seems like a recipe for carpal tunnel syndrome. Maybe THAT is why we only got six novels.
5. Pride and Prejudice and Zombies
by Jane Austen and Seth Grahame-Smith (review): Okay, I'll admit, there are a lot of hardcore Austen fans who will balk at this one, but hear me out. This book is Jane Austen repackaged in a fun, modern light. With zombies. But the Bennet sisters are total badasses! I love those girls, truly I do, but it's refreshing to see them doing something other than waiting around for suitors to call. Even if that something is extermination of the undead.
6. Sense and Sensibility and Sea Monsters
by Jane Austen and Ben H Winters (review): You guys, I loved this book. Even more than Pride and Prejudice and Zombies. It's STEAMPUNK Jane Austen. And Colonel Brandon has a squid face. Purists probably hate this one as well, but I implore you, my bookworms, to give it a shot. Such fun!
Alright, Bookworms, I know there are oodles more Jane Austen offshoots out there. Anybody have a favorite? (I promise I won't judge you if you love any of the Darcy-Lizzie sequels that include the scandalous bits.)
*If you make a purchase through a link on this site, I will receive a small commission. I will use it to purchase shoe roses and tea cups, obviously.*