Dearest Bookworms,
You'd think I'd be tired of Jane Austen tributes and spinoffs at this point in my reading career… But you'd think wrong. When I was contacted by the publishers of Charlie Lovett's new novel, First Impressions: A Novel of Old Books, Unexpected Love, and Jane Austen
 I was really excited. Not only do I love Jane Austen, but I also enjoyed Charlie Lovett's last novel, The Bookman's Tale: A Novel of Obsession
(review). Everybody loves a subtitle, no? *I received a complimentary copy of this book from the publisher for review consideration. I swear on the grave of Jane Austen than the following review will be truthful.*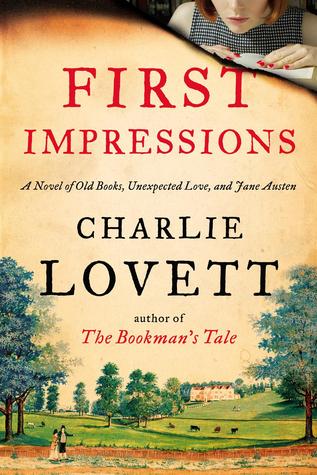 First Impressions
is told in a dual narrative ping-ponging between the life of modern day Sophie Collingwood and the life and creative process of one Jane Austen. Sophie has recently finished her master's degree and is feeling rather shiftless. She takes a job in an antiquarian bookshop until she gets things figured out, only to receive two requests for the same extremely obscure book in rapid succession. In researching the book, Sophie is drawn into a scandal that calls into question the authorship of Pride and Prejudice
… And it might get her killed. Book enthusiasts can be intense, yo.
Throughout the narrative we're brought back in time to see Jane Austen forming a close friendship with her elderly neighbor Richard Mansfield. The two have a bond that undeniably shapes Austen's work, but just how much of an influence was Mansfield?
Back in the present, Sophie's got mysteries to solve, not the least of which revolves around a pair of suitors. Sophie must channel her inner Elizabeth Bennet to figure things out and live to tell the tale.
And now I shall share my impressions of First Impressions
, because it's what I do and I wanted to smush the word "impressions" into a sentence thrice. (Ha! I win!) I typically enjoy dual narratives, and I liked Lovett's take on Jane Austen's life and writing process. I found Sophie to be a spunky heroine, though I will admit I found Sophie's love life full of rather heavy handed Pride and Prejudice
 parallels. However, considering the whole book is awash in Austen fandom, it seemed fitting. (Also, never trust a dude whose name starts with a "W." Scoundrels, the lot of them!) As in The Bookman's Tale, I loved the peek into the antique book world that Lovett provides. As a person who has always focused on the content rather than the medium, it's a glimpse into another delightful corner of bibliophilia. I doubt I'll ever be the sort of person who seeks out first editions, but I can (and do!) appreciate historical objects. (Seriously, you should have seen me flipping out over the copy of the Magna Carta I saw at Salisbury Cathedral. I practically had to bust out the smelling salts. Oh, the vapors!)
As an extra special treat for all my favorite book nerds, the awesome folks at Viking/Penguin have sponsored a GIVEAWAY of BOTH First Impressions
 AND a gorgeous Penguin Classics hardcover edition of Pride and Prejudice
. This giveaway is open to residents of the US and Canada only. Check out the Rafflecopter goodness below to enter!
a Rafflecopter giveaway