Hi ho, Bookworms!
If you're anything like me, you accumulate books faster than you can read them. I don't suppose it helps that I enter giveaways on other blogs, but I have a severe weakness for free books. A few months ago I won a copy of Lost Lake
by Sarah Addison Allen from Bookalicious Mama and it taunted me from my bedside table with its pretty cover mercilessly. I finally got around to reading it, and I'm SO GLAD I did!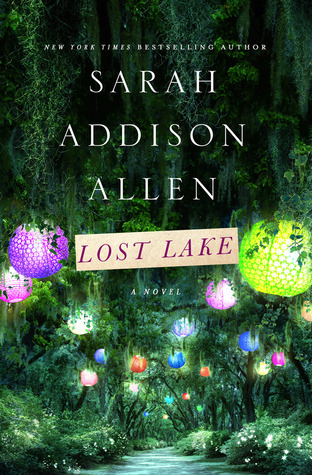 Our heroine Kate recently "woke up" from mourning the loss of her husband. She's been going through the motions for a solid year and has only just managed to muster the will to participate in life again. While clearing out some detritus to prepare for a move, Kate and her daughter Devin (a budding fashionista, with an eccentric sense of style) find an old post card reminding Kate of the summer she spent at her great aunt's cabin resort, Lost Lake.
Kate's re-awakening came with a healthy dose of "carpe diem" so she loads Devin into the car and sets off for rural Georgia to seek out some R&R in the serene environment. Kate's Aunt Eby is thrilled to see her long lost niece, but Lost Lake is on the verge of closing up shop. Eby, Kate, and a few regular guests set out to make Lost Lake's final summer one to remember. A little romance, a little magic, and a healthy dash of Southern fried fun make Lost Lake
 a wonderful escape.
This book is utterly charming and heartwarming. Sarah Addison Allen puts together a cast of quirky characters that can't be beat (and you know how much I LOVE quirky characters, especially when some of them are cranky old women. It makes my inner Mildred positively gleeful.) I read this tasty morsel in a single day. If you need a little escape from reality, Lost Lake
 is as refreshing as a cold glass of sweet tea.
Tell me, dear Bookworms. Do you enjoy books that offer an escape?
*If you make a purchase through a link on this site, I will receive a small commission. I will use it to take a flipping vacation!*