Greetings Bookworms!
If you've been floating around the book blogosphere at all, you've probably noticed there's a little event going on called A More Diverse Universe. It is, in a word, awesome. The purpose of the event is to encourage readers to step out of their comfort zone (or for me, my lazypants-can't-be-bothered-to-pay-attention-to-things zone) and pick up books written by people of color. To participate you need to read and review ONE book by a person of color. Talk about low-pressure! I'll be the first to admit that my reading list ends up being rather, uh, Caucasian-heavy? It's not something I do intentionally, but this event is the kick in the pants I need to PAY ATTENTION. So I am! Today we're going to talk about a book by Native American author Erika T Wurth called Crazy Horse's Girlfriend
. *I received a complimentary copy of this book from the publisher for review consideration. This in no way affects my opinion of the book. My integrity is more expensive than a paperback novel.*
Crazy Horse's Girlfriend
 tells the story of a mixed race Native American girl living in Colorado. Margritte's community is poverty stricken and plagued with alcoholism, drug use, and violence. Though only 16 years old, Margritte and her cousin Jake supplement their pathetically small incomes by moonlighting as marijuana dealers. Margritte spends most of her time hustling and partying, giving her schoolwork short shrift.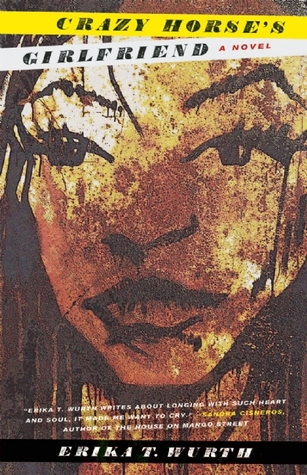 She's just trying to survive high school so she can leave her dead-end town in the dust. Her home life leaves much to be desired as her father is an abusive alcoholic and her mother refuses to leave him despite his dangerous behavior. Margritte is often tasked with taking care of her young twin sisters and trying to keep them out of harm's way. Jake keeps landing himself in juvie, and you never know when a meth-head is going to stab you. And because all that drama isn't enough, let's not forget about teenagers and their raging hormones! Margritte's got a hot steaming pile of crap to wade through if she's ever going to escape her circumstances.
I know this book sounds like a total downer but it is INCREDIBLE. It's raw and gritty and intense. It gives a very realistic portrayal of poverty in Native American communities and the choices young people are forced to make. I will warn any tender-hearted readers that this book doesn't shy away from anything. If you're offended by profanity, sex, drug usage, or violence this book is NOT for you. If you're on the fence, though, you need to give it a shot. It really is just THAT good. Since we're celebrating diversity this week, I thought I'd share a little something-something from the author's biography:
Erika T. Wurth is Apache / Chickasaw / Cherokee and was raised on the outskirts of Denver. She teaches creative writing at Western Illinois University and was a writer-in-residence at the Institute of American Indian Arts. Her work has appeared or is forthcoming in numerous journals, including Boulevard, Fiction, Pembroke, Florida Review, Stand, Cimarron Review, The Cape Rock, Southern California Review and Drunken Boat. Her debut collection of poetry, Indian Trains, was published by The University of New Mexico's West End Press.
Did y'all see that?! She teaches at Western Illinois University! Why, that's just a hop, skip, and a jump away from my cornfield. You can bet I'll be keeping my eyes peeled for author events in the area!
Talk to me, Bookworms! Do you typically pay much attention to the backgrounds of the authors you frequently read? Is my laziness normal?
*If you make a purchase through a link on this site, I will receive a small commission.*