How Now, Bookworms?
 The Fellowship of the Worms is back in session! As you know, this month we read We Were Liars
by E. Lockhart. It occurred to me that this book title would have been equally appropriate had it been by G. Lockhart, but I can only assume he's still chilling in St. Mungo's thanks to his own treachery. Way to be an ass, GILDEROY. WARNING: We will be discussing the WHOLE book. This will no doubt include SPOILERS. If you did not read the book and would like to participate, pick up a copy of We Were Liars
 and give it a read. This post will be here waiting for you when you finish. Now that the particulars are out of the way, I'll remind you of the premise here. I'll pose questions in bold and answer them in regular type.  If you don't want your opinions influenced by my rantings, stick to the bold first. Feel free to answer them in the comments, or if you're so inclined, on your own blog. A linky list will be provided at the end of this post for anybody who has reviewed We Were Liars
 on their own blog, even if it has nothing to do with the following discussion questions. Don't be shy, please link up! Oh, and since the whole hook of this book is a surprise ending, please remember to issue spoiler alerts to your readers if appropriate.
1. Normally I attempt to work through these questions chronologically, but I simply can't help myself. Was anybody well and truly shocked by the revelation at the end of this book? Knock, knock. Who's there? Disappointment. Seriously, you guys. I wrote myself a note when I was 20% of the way through this book saying "the twist had better not be that the other three liars are dead, because that's not much of a shocker." I feel like I played a big part in my own disappointment though. If I hadn't been on such high alert to suss out the shocking ending, maybe I wouldn't have seen it coming. I mean, I probably still would have, because even hands-off parents don't allow teenagers a house to themselves with zero family interaction on vacation, particularly if one of the teenagers has recently suffered a traumatic brain injury. Plus, even the most self absorbed youth respond to the emails and texts of their severely injured friends/cousins. Nobody's that big a jerk. Maybe I should blame pop culture though… I've seen The Sixth Sense
, and am now abnormally attuned to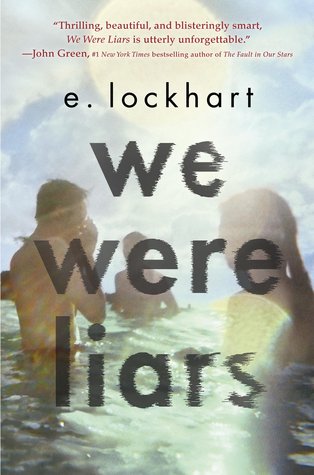 the details that might give away the secretly dead.
2. That said, do you think Cadence was lying about interacting with dead people? Having full on hallucinations? Or, you know, were there legit ghosts hanging around? I think she was hallucinating. Cadence was troubled, no doubt, and the Sinclairs were a hot mess, but I don't think she was manipulative enough to have played off memory loss the way she did. And, despite my willingness to embrace the paranormal, I don't think Cadence was being haunted. Brains do weird things when they experience trauma. Score one for hallucinations.
3. Despite the tragic end of the crime perpetrated by the Liars, did they in any way succeed in their goals? That's tough to say. I mean, they wanted the family to quit fighting about money. They wanted their grandfather to quit pitting his daughters against each other. In some ways I suppose they were successful, since the Sinclairs were hit with a mega-dose of perspective when they compared the loss of their children to the money squabbling they'd been engaged in. Still though, they didn't magically become the Cleavers or anything. Moral of the story? Arson is never the answer, kids!
4. Did you like the allusions to King Lear
, Wuthering Heights
(review), and fairy tales, or did you find them distracting? I love a good literary allusion. When Gat started explaining how he was Heathcliff to Cadence, I was all "YES! Spot on!" He also went on to talk about how Catherine and Heathcliff were horrible characters and in no way an appropriate model for romance (okay, maybe I'm projecting a little…) at which point I wanted to high five him. It made a nice change to want to high five a character instead of punch him. Way to go, Gat.
5. The Sinclairs own their own island and have named all the houses on it. Clairmont, Windmere, Red Gate, and (gag) Cuddledown. Would you ever name your home? I am neither especially wealthy nor especially pretentious, but I have been calling my home "The Gingerbread House" since the day we bought it. Of course, I'm also the sort of person who names cars, house plants, and the occasional penguin statue, so I'm not sure I'm a great case study. Seriously though, at least it's not "Cuddledown." I'm of the opinion "cuddle" should only be a part of something's name if that thing is inherently fluffy. Or especially unfluffy, because irony is fun.
Talk to me Bookworms! What did y'all think of We Were Liars? If you've reviewed We Were Liars on your own blog or have answered the discussion questions, please link up! 
[inlinkz_linkup id=442909]
*If you make a purchase through a link on this site, I will receive a small commission. Proceeds will be put toward the "buy Katie an island" fund.*