Hidey Ho, Bookworms!
Shortly after BEA, some of my blog pals who had been lucky enough to attend the conference o' bookish goodness and starting chatting about what ARC's they were excited to have picked up. One of these books was We Are Not Ourselves
by Matthew Thomas. Not one to be left out, I jumped over to NetGalley to see if I could snag myself a digital copy. *I received a complimentary copy of this book from the publisher for review consideration. This in no way affects my opinion on the book, as I am a cantankerous old mule whose opinions will not be tamed.*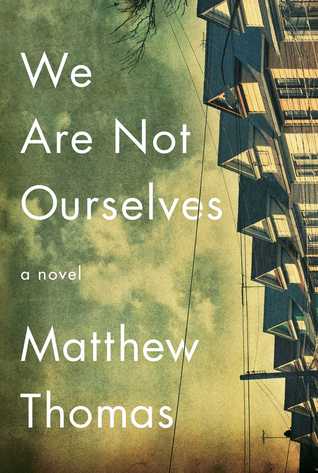 We Are Not Ourselves begins with a young Eileen Tumulty. The daughter of Irish immigrants, Eileen's life is marked by family strife and alcoholism. She dreams of living a more prosperous life, and eventually meets a young scientist named Ed Leary who is refreshingly different than the other men in her neighborhood. Sadly for Eileen, she soon learns that Ed isn't motivated by the American Dream and a desire to become a social climber.
Eileen's obsession with bigger homes, better friends, and higher paying jobs begins to drive a wedge between her and Ed. As time passes, Eileen and her son Connell begin to notice that Ed is exhibiting some disturbing behavior, behavior that can't be easily explained away. When confronted with a devastating diagnosis, the family tries desperately to hold together.
This book is epic in scope. It's a bit of a chunkster (600+ pages) and covers decades of the American experience. It's got humor, it's got heartbreak, it's got a little bit of everything. I find myself without the appropriate words to describe how I feel about this book, so I'm resorting to comparisons. Cool? Cool. Okay. If you liked Angela's Ashes
 (review), Still Alice
 (review), or A Tree Grows in Brooklyn (review)
, you should check out We Are Not Ourselves. Just trust me on this one, okay?
Tell me Bookworms. Do you dig sweeping family epics?
*If you make a purchase through a link on this site, I will receive a small commission.*