Greetings Bookworms!
Let's talk for a minute about self published books, shall we? Now. Most of these conversations consist of bloggers explaining why they won't read self pubs and self pubbed authors complaining that nobody will give them a chance. There have been a million posts written about how to approach bloggers and pitching your work and whatever. You know what works for me? Establish yourself as a blogger. Write interesting content. Make the rounds. When you subtly announce that you've written a book, I'm eleventy billion times more likely to read it than if I'd received a random email pitch. Even better? Don't pitch the book to me at all. I'll probably just buy it with my own hard earned money and give it a shot. This is all to say that AMB from The Misfortune of Knowing (a fabulous blog about literature and the law) is DOING IT RIGHT. *I was not asked to read or review Two Lovely Berries
by AM Blair. I bought it because it sounded interesting. That said, I do have a blog friendship with the author. Take that for what you will.*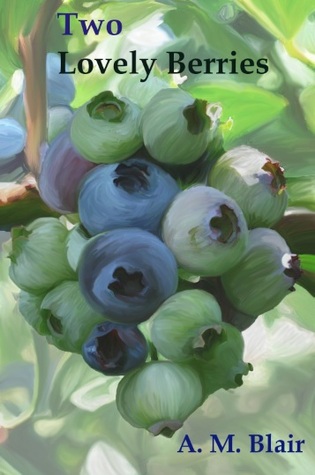 Two Lovely Berries tells the story of the Daley twins, Nora and Aubrey. Born and raised in an affluent suburb of Philadelphia, Nora and Aubrey were close, but still maintained a sense of individuality. After graduating from Yale, Aubrey immediately marries her college sweetheart and moves across the country. Nora is forced to confront her new twin-less reality as she struggles with her post-collegiate identity, complicated family issues, and her own swampy love life. (I wanted to punch both those Wilcox boys more times than I could count… For the record.)
I don't know what to say other than this book was excellent. I found the story engrossing from the start. Books that focus on interpersonal relationships sometimes turn a corner into a weird introspective place, but I thought Two Lovely Berries stayed grounded firmly in reality. Everything was realistically portrayed, and even the dramatic bits avoided abject melodrama. Tales of infidelity, workaholics, family violence, and sibling rivalry all blend together with refreshing glimmers of humanity that make the whole thing just work.
Blair has an adorable set of red-headed twin daughters who served as her inspiration for this book (though, God willing, they'll have an easier time of being grown-ups than Aubrey and Nora did.) I really dug the glimpse into a twin's world, being a boring singleton myself. If I have to lodge a complaint about this book, it would be that I was left craving Greek food, blueberry pancakes, and I was utterly bereft realizing I would never have a personal chef to make me his or her signature lasagna.
If you have any interest in family dynamics, twins, and/or stories about post-collegiate limbo, I highly recommend you give Two Lovely Berries a read! (If you're interested in another great blogger/author's fictional offerings, I recommend you check out Lost and Found by Chris Van Hakes as well.)
Talk to me Bookworms! Do you find twin relationships as fascinating as I do?
*If you make a purchase through a link on this site, I will receive a small commission.*