Happy Tuesday, Bookworms!
I've been out of the listing game the past couple of weeks, but I am jumping back in with both feet. Today's prompt (thanks, as always, to the folks at The Broke and the Bookish) is books that people have recommended to us. I'm kicking this bad boy up a notch and calling out some of the insatiable book pushers who have demanded I read all the things. Ready???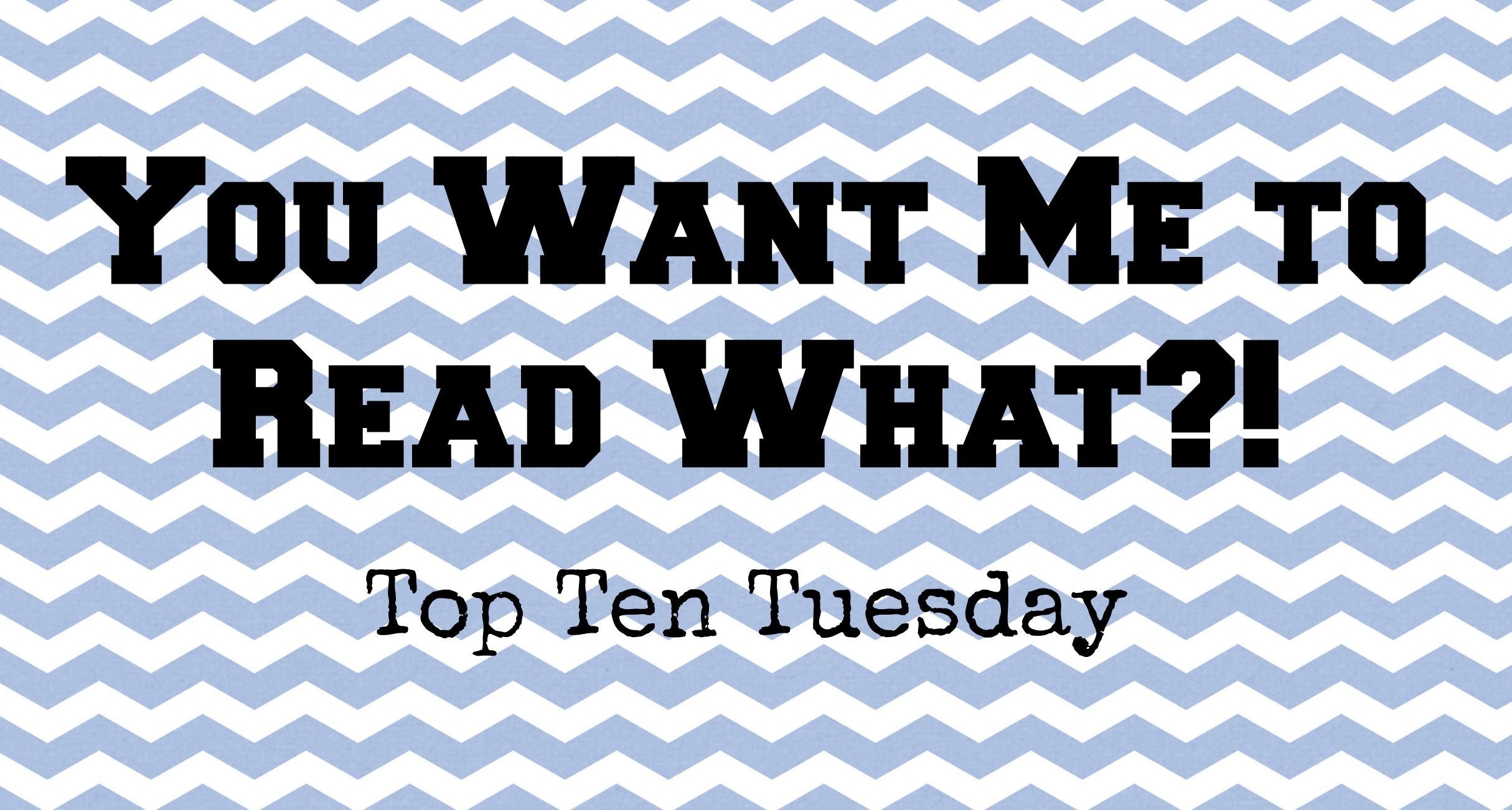 1. The Eyre Affair
by Jasper Fford: I can't attribute this one to a single person because pretty much everyone and their mom has told me I need to be reading the Thursday Next series. One of these days, I promise.
2. The Walking Dead Comics by Robert Kirkman: I'm so effing hooked on the show it's completely ridiculous that I've heretofore ignored the source material. I'm ashamed, and publicly shaming myself. Bad Katie!
3. Year of Wonders
 by Geraldine Brooks: This book has been recommended to me a number of times, because I love me some plague. The most recent recommendation I received came from Rhian, one of my super fantastic regular readers. I've got it on hold at the library, girl, I promise!
4. The Crimson Petal and the White
by Michael Faber: So this one time, THE Emma Donoghue stopped by my blog and she told me to read this book. Because I'm totally the sort of person famous authors are chummy with, Emma knows I dig hooker books in a big way. It wasn't just a random act of googling that caused her to land here that one time or anything…
5. The Sparrow
by Mary Doria Russell: This book has come to my attention on a number of occasions, but the gal who actually got me to make the purchase was Andi from Estella's Revenge. (Have I mentioned she's going to be writing for Book Riot's newest venture? I'm so proud!!!) It's just sitting on the e-reader. I'll get to it. Gah, this TBR pile will be the death of me!
6. The Chaos Walking Trilogy
by Patrick Ness: My girl Heather Ethel from The Capricious Reader simply RAVES about these books and I need to know what all the commotion is about.
7. Lonesome Dove
by Larry McMurtry: One of my favorite non-book-bloggers in all the land is Lauren from Filing Jointly… Finally. She's been rather quiet of late in the online sphere because of this ridiculously cute kid she had. But. She's also a voracious bookworm and has not so subtly demanded that I read Lonesome Dove. She is usually right about these things.
8. Anything by Christopher Moore: Sarah from Sarah Says Read loves her some Christopher Moore, and her descriptions typically make me think I should have read his entire catalog… Yesterday.
9. Anything by Harkuri Murakami: So, there may have been an episode of book shaming involved in my reluctance to try to read Murakami, but that Monika from A Lovely Bookshelf on the Wall has been relentless in her quiet nudging way… I'm going to cave in soon, I just know it.
10. Tiny Beautiful Things
by Cheryl Strayed: I've read zero Cheryl Strayed, but every time I see Shannon from River City Reading getting all wistful about this book, I feel like I'm missing something really wonderful.
Your turn, Bookworms! What have people been recommending to you? Since my TBR is impossibly long anyway, a few more won't hurt. What should I add to the list?
*If you make a purchase through a link on this site, I will receive a small commission.*