Greetings my little Bookworms,
In case you've been living under a literary rock, Donna Tartt's newest offering, The Goldfinch
, has gotten a ton of buzz. It won the Pulitzer Prize for fiction, and the book blogosphere has been all a-twitter about its greatness. I couldn't in good conscience keep going along ignoring this book, but… This mofo is 800 pages.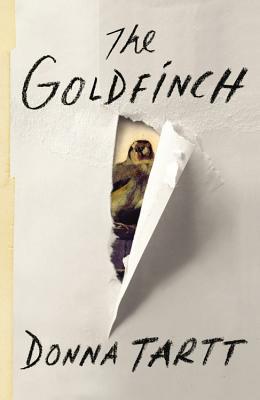 Ever wonder how becoming a book blogger changes your reading habits? For me, it's made me acutely aware of the HUGE variety of books out there that I want to read. In the past I'd pick up a chunkster on a whim. Heck, I read Les Misérables
just for the heck of it. There was no book too long for me. Now though, not only have I saddled myself with obligations (reviews promised to authors and publishers) but I also want to have something to write about. If I can't plow through at least two books a week, WHAT am I going to tell y'all? Flimsy excuses, I know.
I'm happy to report that I finally read The Goldfinch
! Yay me! So here's the deal. There's this kid Theo Decker. He's 13 years old on the day he and his mother take an unplanned detour to an art museum and into the path of a terrorist attack. In the aftermath of the bombing, Theo meets a dying man who he believes encourages him to take home a painting. A priceless work of art, no less. But Theo is 13. He has a nasty concussion. The poor kid picks through the rubble, arrives home after receiving no medical care, and is unceremoniously informed that his mother was killed in the attack. Through a series of unusual events, Theo and the painting embark on a journey… A journey into a life of antiques, drugs, and the seedy underbelly of the art world.
So. What was my verdict? I thought it was a good book, a solid book. It's unfortunate I went into this AFTER reading all the rave reviews, because my expectations were sky-high. There were a couple of characters that absolutely embedded themselves in my heart,unfortunately, neither of them were Theo. (Boris and Hobie, though, I loved those guys!) Theo kept getting under my skin, particularly toward the end. He goes on a rather self indulgent rant about the philosophical implications of his actions. Shades of gray, master plans, yadda yadda yadda. It's all well and good, excellent sentiments, but it felt to me like Theo was giving himself an easy out by over rationalizing things.
All in all, I LIKED The Goldfinch a good deal, but I didn't love it. I'm a little bummed about that fact. I'm also a little bummed that I never could quite get a mental read on Boris's accent. I kept TRYING to hear the Australian and Russian accents mingling, but it kept going full Russian in my head. Sigh. Has anybody listened to this in audiobook format? Do they do a good job with Boris's accent?!
Tell me Bookworms. Have you ever felt let down by a book you were expecting to absolutely adore? Ever been surprised by something you didn't expect to enjoy? 
*If you make a purchase through a link on this site, I will receive a small commission.*