Halló Bookworms,
Today we're going to Iceland. Yes, the land of Björk and that volcano that destroyed air travel for a time in 2010 (Eyjafjallajökull, say that three times fast!) Every blogger in all the land, it seems, read and adored Burial Rites
by Hannah Kent, and I could no longer in good conscience go about having not read it. Call it peer pressure. In any case, I just finished reading Burial Rites
, and I'm going to tell you all about it. Whether you like it or not. Because I'm just like that.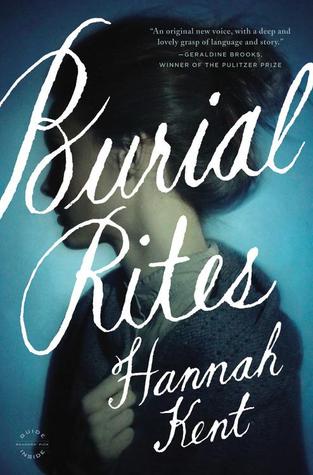 Burial Rites tells the story of Agnes. Agnes is accused of the murder of her employer and one of his associates. She was convicted of the crime with along with two companions, and sentenced to death. It's 1829. And it's Iceland. They didn't exactly have a great prison system infrastructure, so they sent Agnes to  the modest family farm of a low ranking government official to await her execution.
At first the family is pretty freaked out at the idea of keeping a convicted murderer in their home. They live in an old-school Icelandic dwelling where everyone sleeps in a single room- a murderer in their home meant a murderer in their bedroom. Agnes isn't really what they expect, though. She's not some blood-thirsty knife-wielding psycho, she's a woman well versed in farm work who never balks at the icky tasks. As time goes on, Agnes's heartbreaking story slowly comes to light.
The novel is based in part on a true story- Agnes did, in fact, live. She was convicted of murder in 1829 and sentenced to death. Hannah Kent did a beautiful job of giving a voice to a person who would otherwise be lost to history. A gorgeous, heart-wrenching book.
I really enjoyed Burial Rites, but I've got to admit I fell down the Wikipedia rabbit hole several times while reading this. I know virtually nothing about Iceland, so I kept looking things up. My real stumbling block, though, was the names. Holy cow, Icelandic, man. Accent marks and umlauts and discordant groupings of consonants! I've heard that Finnish is the most difficult language to learn (that's according to an eccentric English professor I once had) but Icelandic has got to be right up there. Wowza.
Talk to me, Bookworms. Do you know much about Iceland? What are your immediate associations with it? (Anybody who says D2: The Mighty Ducks
gets 5 knucklepuck points!)
*If you make a purchase through a link on this site, I will receive a small commission.*