Happy Tuesday Bookworms!
The ladies of The Broke and the Bookish this week have tasked is with a doozy of a list. They have asked us what items are on our Bookish Bucket List. I haven't honestly given this topic a whole lot of thought in the past, but I can put one together. I mean, why in the heck not?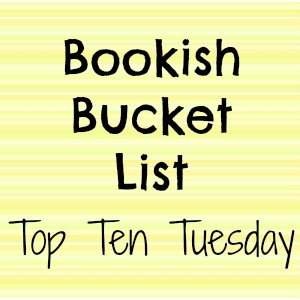 1. Go to The Wizarding World of Harry Potter at Universal Studios. I'm super super jealous of the trip Jen at The Relentless Reader just went on! (Check out the details here!)
2. Attend BEA one of these years. I believe 2016 will be in Chicago. Who's going with me?
3. Do something OUTLANDISH! With the show coming out this summer and my over-the-top love for all things Jamie and Claire, I think it would be fun to do something inspired by Outlander. The only problem is that, uh, most OUTLANDISH activities are kind of gross. I mean, I GUESS I could give someone a black eye and then stick a leech on the bruise to reduce the swelling, but ewwwww. Plus, you know. Assault is frowned upon in polite company.
4. Meet another book blogger! I've got some AMAZING blog friends that I've met in real life, but none of them are book-specific bloggers. It'd be nice to meet one of these crazies face-to-face, you know?
5. Increase the traffic Words for Worms gets. That's not so much a bucket list item as an ongoing thing, but it's my list. I can make it vague if I want to.
6. Go to a book signing. You guys. I live in the middle of nowhere. We don't have amazing authors coming into town all the time. The last signing I wanted to go to was totally within driving distance, but on a weeknight. The full time job is a blessing, but occasionally inconvenient. Thankfully, Quirky Chrissy and the amazing Bloggess were able to make my dreams come true from afar. (The whole story is HERE if you're interested.)
7. Start a meme. I know, it sounds ridiculous, but I think Top Ten Tuesday is super fun and I'd like to come up with something as awesome. Of course, I've been toying with the idea for quite a while and I'm still lacking a concept. Ah well. Bucket lists aren't supposed to be realistic.
8. Visit some bookish locales! How fun would it be to go to Scotland to get my Outlander on? Or, what about chilling on Prince Edward Island and getting in touch with my inner Anne (with an E!)
9. Throw a book themed party. This one might actually get off the ground. My IRL book club has a member expecting a teeny tiny bookworm! Bookish baby shower, anyone?
10. Read EVERYTHING on my bookshelf. Everything. That includes all those classics I purchased while feeling ambitious only to allow them to languish on the shelves…
What about you, Bookworms? Do you have a Bookish Bucket List? What's on it?