Happy Friday, Bookworms!
Tonight I'm meeting with my neighborhood book club, which I've not-so-cleverly dubbed "My Neighbors are Better than Your Neighbors." I'm super lucky to have a great group of gals to hang out and talk books with. This month, one of our members (who also happens to be my Girl Scout cookie hookup) chose The Giant's House: A Romance
 by Elizabeth McCracken.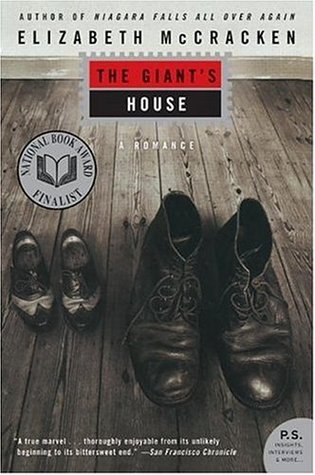 In 1950s Cape Cod, small town librarian Peggy Cort feels like she's passed her expiration date. She's resigned herself to a small life, when a very large boy walks into it. James Sweatt is 6 foot 2 inches at 11 years old, and nowhere near finished growing. The two strike up the sort of connection only outsiders can truly understand, and their lives are never the same. And there's maybe kind-of-sort-of some romance, depending on your perspective.
I'll just come right out and say it: this book wasn't for me. The prose is perfectly lovely, and to a different reader this book might be fantastic. But for me? Meh. Yes, "meh." Charleen of Cheap Thrills Book Blog (who is more eloquent than I) wrote a fantastic piece on the merits of using the term "meh" that you should read. (Really, click on it. HERE.) Writing a review of a book that hits you upside the head with all the meh is crazy hard to do. I'm stuck in a gray area of stumbling over words, and it makes me all twitchy.
To be fair, I haven't spoken to any of the ladies to hear how they felt about the book, other than a couple of vague "this is really depressing" text messages. Knowing them as I do, though, I can't imagine this is a new favorite for any of them. 
Actually, knowing them as I do, I'd be surprised if many of them even finished this one…
Choosing the book for a book club can be nerve wracking. It's not just about choosing a "good" or "bad" book, it's about choosing a good fit for your group. If your book club is really into dystopian YA, busting in with some highbrow literary fiction probably isn't going to go over too well. Nobody wants to read the same thing all the time, (okay, well *I* don't want to read the same thing all the time.) That's part of the beauty of a book club, reading something you might not have picked up on your own. That said, everything new carries ALL THE POSSIBILITIES. You could love it, feel like a giant ball of "meh," or rage at the heavens that such a piece of literature was ever brought into being.
Because I'm not much of a re-reader, whenever I make a book club selection, I typically go in blind. These days I've got a pretty hefty advantage. I read a lot of book blogs, and have a killer group of blogger friends who know my taste well enough to help me make my decisions. But you know something? Sometimes it doesn't even MATTER that you've researched and read reviews and polled your pals. You really don't know if something is going to work for you (and your book club) until you read the darn thing!
I'm not going to give my Girl-Scout-Cookie-Hookup too much crap for picking a book I didn't like. Then I'd have to go out and make another friend with a Girl Scout daughter, and I just don't have the energy to go hunting one down. Not to mention, one of these days IT MIGHT BE ME responsible for the book club bomb. It's cool, Emily. I still love you!
What about you, Bookworms? Do you feel pressure choosing books for your book clubs? Is my anxiety a reflection of my own inner turmoil or do y'all deal with this too?