Howdy Bookworms!
Today being New Year's Eve, it seems only appropriate that I wrap things up with the ladies at The Broke and The Bookish. It's time to list the Top Ten Books I read in 2013. Wahoo!
1. Tell the Wolves I'm Home by Carol Rifka Brunt (my review) This book, you guys. I want to chase people around and press copies into their hands. June is such a great character to watch come of age. And Finn and Toby and the 80s AIDS epidemic? My heart. It's ah-mazing. Read it, read it, read it!
2. Me Before You by Jojo Moyes (my review) It's your classic tale of unemployed girl meets quadriplegic boy… I don't care if it's kind of sappy, I loved it. Many tears were shed with this one, my friends. Have a hanky handy.
3. The Thirteenth Tale by Diane Setterfield (my review) This was our inaugural selection for The Fellowship of the Worms and it was awesome! I loved this book- the intrigue and secrecy and scandal and surprises. Wonderful. (We're going to pretend that Bellman & Black didn't happen, mkay?)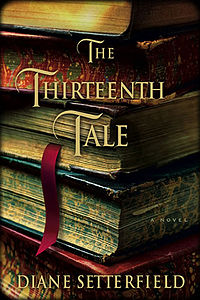 4. Eleanor & Park by Rainbow Rowell (my review) I fell in love with Rainbow Rowell's writing while reading Eleanor & Park. Her teenagers sound like teenagers, and high school is a big mess of awkwardness. It's beautiful the way she makes young love feel so real- I mean, hand holding. Do you remember when hand holding was a big deal? Butterflies. She brought them back. Siiiigh.
5. Feed by Mira Grant (my review) I love zombie novels! They have the monster element and apocalyptic scenarios all mushed together. The Feed trilogy has taken the top spot in the rankings of my favorite zombie books. If you have even the slightest inclination to read these, do it.
6. The Painted Girls by Cathy Marie Buchanan (my review) I've always been partial to historical fiction, and I've always loved the whole "tracing famous art to its origin story" plot line. This book offers a fictional take on the back story of one of Degas' most famous sculptures, and it's pretty fabulous. Ballerinas were waifs because they were too poor to eat! The more you know.
7. MaddAddam by Margaret Atwood (my review) Nobody does a dystopia like Atwood. The completion of the saga begun with Oryx & Crake and continued with The Year of the Flood was finished this year. Thank goodness, too, because I'd been anxiously awaiting the conclusion for 4 years. Patience is not my strongest trait.
8. Code Name Verity by Elizabeth Wein (my review) This book was a fascinating take on WWII from the point of view of two British young women and an inside look at a wartime spy operation. Friendship and war and espionage. So good!
9. The Curious Incident of the Dog in the Night-time by Mark Haddon (my review) I don't know how I managed to avoid this book for so long, but I'm glad I finally got around to reading it. Christopher is brilliant, but he suffers from a form of autism, which makes "ordinary" life challenging for him. Seeing the world through his eyes was by turns fascinating, funny, and heartbreaking. Great read!
10. The Care and Handling of Roses with Thorns by Margaret Dilloway (my review) I love flowers nearly as much as I love penguins. It's an intense thing. This book focused on a woman who spent her time cultivating and breeding new varieties of roses in between dialysis appointments. She's soon saddled with her teenage niece and a whole new life challenge ensued. Loved every minute of this.
It was tough to choose a top ten, but I think this is a pretty good list. Here's to more awesome books in 2014!
What were some of your favorite reads this year, bookworms? 
*If you make a purchase of any of the above listed books through a link on this site, I will receive a small commission.*