Howl do you do, Bookworms?
Today is Tuesday, and, as is traditional, I'm going to be making a list with the fabulous ladies at The Broke and the Bookish. This week's topic was supposed to be Top Ten Spooky Book covers or Top Ten Halloween Reads. However, I'm feeling rebellious (and I pretty much covered Top Ten Halloween reads in This Post.) I'm going rogue because I can do that, saucy minx that I am. I've been thinking about how much FUN it is to do bookish Halloween costumes, so I'm going to show off some fun ones. Ready?
1. Alice from Alice's Adventures in Wonderland and Through the Looking Glass by Lewis Carroll. Alice is my homegirl. This homage? It surprises nobody. That doesn't make it any less fun, though!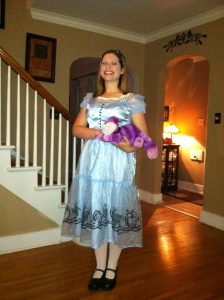 2. Mary Poppins from Mary Poppins by P.L Travers. I must confess I've not read any of the Mary Poppins books. HOWEVER. Disney's Mary Poppins has held a dear place in my heart for many many years. It also makes for a seriously cool Halloween costume. My pal Lyssa over at Psychobabble has some of the best Halloween costumes, and she graciously allowed me use of her pictures.
3. Little Red Riding Hood from Little Red Riding Hood by the uh, folklore of Europe? Fairy Tales lend themselves to fabulous Halloween costumes! Take, for example, this gem I donned in college.
4. Hermione Granger from Harry Potter by JK Rowling. The Harry Potter series provides ENDLESS opportunity for kickin costumes, but Hermione is something special. Here, my for-real-in-person-friend Chrissy of Quirky Chrissy gets her Hogwarts on in a Hermione Costume.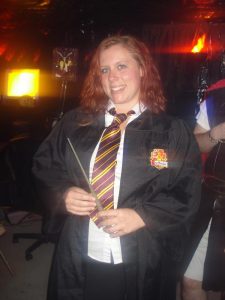 5. The Cheshire Cat from Alice's Adventures in Wonderland by Lewis Carroll. So I might be a bit of an Alice fan… Last year at DisneyWorld, I went to Mickey's Not So Scary Halloween Party dressed in honor of the sneakiest of cats, that of the Cheshire Cat. I got the Queen of Hearts to pose with me, as an extra bonus.
6. Effie Trinket from The Hunger Games by Suzanne Collins. Lyssa seriously outdid herself this year with this killer Effie Trinket costume! She brought the crazy promoter of District 12 to life!
7. Peeta from The Hunger Games by Suzanne Collins. Some guys (like my husband) are NOT into costumes. The dude Lyssa married? Totally down with costuming. Brian got his Peeta on to go with Lyssa's Effie, and I've got to say, it's pretty impressive.
 8. Tweedle Dee from Through the Looking Glass, And What Alice Found There by Lewis Carroll. Are you telling me that you and your high school friends DIDN'T put together the greatest group costume known to mankind in which you and your pal battled with kitchen utensils?! You missed out! (And no, I don't think three Alice costumes is repetitive in the slightest.)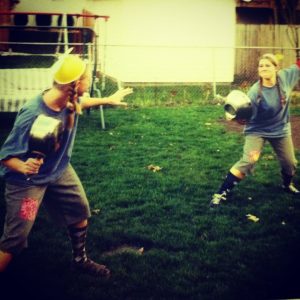 9. A PENGUIN and we'll go ahead and claim it's from Mr. Popper's Penguins by Richard & Florence Atwater.  Yes, I wore a penguin costume. To work. As an adult.
10. The Cat in the Hat from The Cat in the Hat by Dr. Seuss. This is a really fun costume. I wore it my junior year of high school. Unfortunately, photographic evidence is not in my possession at this time. Just trust me when I tell you that it was really stinking cute, okay?
So my little Bookworms, what are some of your favorite literary inspired Halloween costumes?
*FTC Disclosure- Links in this post may direct you to the Book Depository. If you choose to make a purchase, I will receive a small commission. The better to buy more books with, my dears. *