Greetings Bookworms,
I just finished the most delightful Rom-Com. As I started writing little notes to myself for my weekly wrap-up, it quickly became clear that I had a lot to say about The Worst Best Man
by Mia Sosa. Hence, it shall have its own post. You deserve it, you sweet little book, you.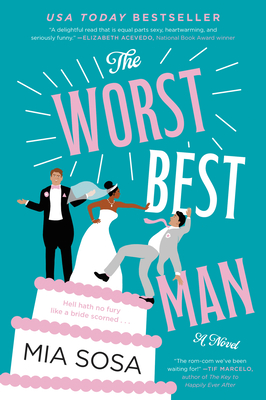 Our protagonist, Carolina Santos, is a wedding planner who manages to keep doing her job despite having been left at the alter herself (early aughts J-Lo vibes are inevitable, really, but, this is a better story.) Carolina Santos is excellent at her job, and she's worked very hard to cultivate her no-nonsense persona. After she masterfully saves the eyebrows (you read that right) of the groom one at one memorable event, she's offered the opportunity to interview for a position to be a swanky hotel's wedding coordinator. The opportunity sounds almost too good to be true, considering she's going to be losing her affordable retail space and is OVER the exhausting work of running her own business. The other shoe inevitably drops when she discovers that the marketing team she's supposed to build her pitch with consists of her ex-fiance Drew and his brother Max, AKA, the WORST BEST MAN EVER (since he apparently encouraged Drew to ditch Lina.) As you might imagine, hijinks ensue.
Let's get to the good stuff. First, Lina is the daughter of Brazilian immigrants living in the Washington, DC area. I think this is the first book I've ever read focusing on Brazilian immigrants, and it was a lot of fun to hear about the family's dynamic and traditions. And, as an added perk of listening to the audio version, I really enjoyed hearing the little snippets of spoken Portuguese peppered into the dialogue. (That would have been less fun if I'd read it myself, because I don't speak Portuguese and would certainly have mentally mispronounced all of it.)
This book also hit upon one of my favorite romance tropes, the classic "THERE'S ONLY ONE BED!" But it didn't stop there! I'd like to see "OOPS WE ACCIDENTALLY LANDED IN A COUPLE'S COUNSELLING RETREAT" become a romance trope in its own rite, because it was hilarious and wonderful. That's another thing- this book was funny. You know how when you type "LOL" but you really only exhale sharply through your nose and smirk? This was not that type of funny. This was "bystanders are going to wonder what the heck is going on because I'm wearing ear buds and I can't stop giggling" funny.
The only issue I had with this audio book is that the male narrator's voice had a quality that kept making me think of Norm Macdonald. And while mid-90s teenage Katie did kind of have a thing for him on SNL, much like my crush on Jonathan Taylor Thomas, this one didn't age well. GET OUT OF MY HEAD, NORM, YOU'RE RUINING THIS FOR ME! (I'll own that this criticism is 100% on me; I doubt anyone else has a subconscious Norm Macdonald fixation.)
All the humor and fun aside, this book had a lot of heart. Max and Lina made so much progress in dealing with their emotional baggage. I mean, Max and Drew have this awful toxic competitive relationship that needs a lot of unpacking. And Lina keeps such a tight reign on her emotions because the world has penalized her for having feelings. I'm a walking bundle of messy, leaky feelings, and while it can be inconvenient and embarrassing, White ladies are afforded liberties with emotions that Black Latinx women are not. I WANT TO HUG YOUR FICTIONAL FACE OFF, LINA, YOU DESERVE BETTER!
All that is to say, if you're in the market for a romantic comedy, I cannot recommend The Worst Best Man highly enough. Humor, heart, and a dash of heat make it an all-around fabulous read!
If you make a purchase through a link on this site, I will receive a small commission. Text links in the post above direct to amazon, but if you prefer to shop through local, independent bookstores, click on the image or the link below: