Hiya Bookworms,
Let's review the week, shall we? It's not bookish news, but, we ordered the bridesmaid dresses for my friend's wedding from eShakti and mine arrived this week. If you're unfamiliar, eShakti is an online retailer where you can customize your sizing and style details before you order. Like, I wanted a different neckline than the default design and I added sleeves (which my bride-chilla was totally cool with.) I also wanted to order a custom size so I wouldn't have to worry about getting alterations after the fact. You can order standard sizes, but in a lot of cases, such as mine, the combination hip/bust/waist ratio doesn't line up perfectly with a standard size anyway so they always fit weird (thus the vicious alterations cycle.) While an eShakti dress might be more expensive than what I'd ordinarily gravitate toward in an off-the-rack dress (I'm notoriously cheap), it's still the least expensive bridesmaid dress I've ever purchased (and I have 6 dresses from traditional bridal stores hanging in my closet, most of which needed alterations in addition to the purchase price.) Even for a less formal occasion, I think I'm to the point where I'd rather have one expensive-ish yet nicely fitting dress than a closet full of cheap dresses that I'm not comfortable in. This one fits like magic and it was SUCH a relief. (I get absolutely no commissions if you decide to go and buy something from eShakti– I'm just excited and wanted to share. Oh yeah. THEIR DRESSES HAVE POCKETS!!!) I know, you're here for books, not fashion rants. Luckily I'm fashion challenged so those won't happen often. BOOKS!
Come Tumbling Down
by Seanan McGuire (who also writes as Mira Grant) is the fifth, and latest in the Wayward Children series of novellas. This one's audio book was even narrated by the author, which is always a fun surprise. We revisit Jack and Jill in The Moors, which we were introduced to (in graphic detail) in Down Among the Sticks and Bones
. Yup, our horror movie nightmare parallel world is just about where we left it, except that the newly resurrected Jill has decided to become a body snatcher. It's wildly creative and fascinating and I love all the myriad of worlds these Wayward Children have stepped into. I must admit though, I REALLY want to go to The Trenches to see Cora get her mermaid on. I mean, I've seen a snippet of mermaid lore via the mind of Mira Grant in Rolling in the Deep
(review), but I want the alternate universe version. Hopefully that story is in the works!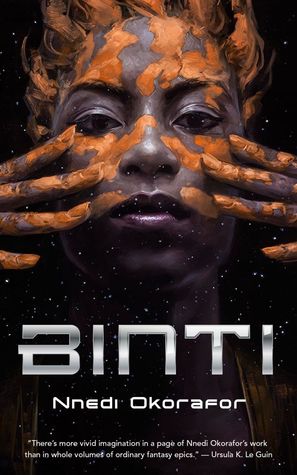 Because I can't seem to get enough in the way of audio book novellas, I decided to try Binti by Nnedi Okorafor. I LOVED her books Akata Witch
and Akata Warrior
(I desperately hope the series continues because I love it so much), and I'd heard a lot of great things about Binti
, so I was excited to try it out. Alas, I didn't love it the way I wanted to. There were some elements that reminded me of Octavia Butler's Xenogenesis Trilogy
(review), and drawing a comparison to Octavia Butler is never a bad thing. It's just… It's only 96 pages (or approximately 2 hours listening time), so the story felt rushed and a little Stockholm Syndrome-y. I feel like I'm missing something obvious because EVERYONE loves Binti . Sigh. I'll probably try the rest of the the series at some point and see if that changes my perspective, but for now I'm still lukewarm on it.
The Overdue Life of Amy Byler
by Kelly Harms was okay, but not totally my jam. I don't know exactly why it didn't
hit the right notes for me, but it felt a bit "meh" from the get-go. Have I been spoiled by plucky romance heroines? Amy is lacking in the feisty fire I've come to expect from rom-com protagonists. She's a librarian and thus committed to trying to get her children to enjoy reading, but she keeps discouraging her daughter from picking up YA titles like Twilight
and trying to get her to read stodgy old classics like Lord of the Flies
. I'm in my mid 30s and I would honestly rather re-read Twilight
(review) than read Lord of the Flies (review) again. Stop shaming your daughter's reading tastes, Amy! She redeems herself somewhat by recommending Eleanor & Park
(review) to her daughter but still. Encouraging any reading is more important than gate keeping for presumed quality. Why yes, my views have evolved over time. This is now a hill I will die on. Sorry, that was an incredibly minor point in the book, but it clearly stuck with me. Mostly, The Overdue Life of Amy Byler
is about a middle-aged woman whose deadbeat husband suddenly reappears after 3 years. She gets the opportunity to spend some time solo in NYC and embarks on what the book terms a "Momspringa" (a term that I think might be offensive to Amish people, but the Amish being Amish, I can't exactly check Twitter to confirm that.) Anyway. It was alright, but nothing I'd shout from the rooftops over.
Of Curses and Kisses
by Sandhya Menon was an adorable Beauty and the Beast retelling set at a boarding school in Colorado. A boarding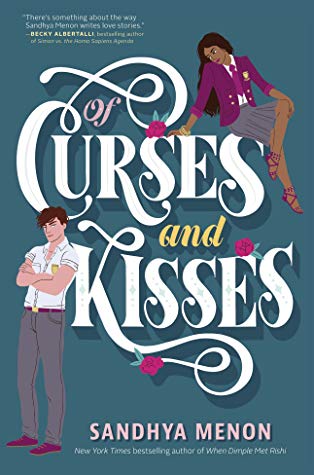 school for the extremely wealthy and potentially scandalous, I should add. Jaya Rao and her sister flee a paparazzi scandal at home in India to seek refuge in the elite St. Rosetta's. As fate would have it, the school also houses the heir of her family's arch-nemesis. Grey Emerson is a misanthrope whose aristocratic British family unceremoniously dumped him at an American boarding school as a small child. He's been living under the shadow of a curse, only to be presented with Jaya, the descendant of the curse-layer. Of Curses and Kisses
is a cute story, but I prefer Menon's Dimple/Rishi-verse (review). The whole filthy rich student body at a fancy boarding school thing was fun but isn't my favorite style. Also, I've never been a rich person, but the lack of concern the characters give to the monetary value of actual rubies is incredibly stressful to me. Like, how are you not scouring every inch of ground to hunt down gems that fell out of your necklace? Nobody even removes a couch cushion! I don't care if you're a princess or whatever, you don't just shrug that kind of thing off, right?
Moving into the coming week, I'm eyeball reading XENI: A Marriage of Inconvenience
, which is the second book in Rebekah Weatherspoon's Loose Ends series that kicked off with RAFE: A Buff Male Nanny  (review). I've got The Worst Best Man
by Mia Sosa playing in my audio book app. Is there any better way to start the week than with a pair of rom-coms? What are you reading this week, Bookworms?
If you make a purchase through a link on this site, I will receive a small commission. Text links in the above post direct to Amazon, but if you prefer to shop through a local, independent bookstore, check out the links below:
Come Tumbling Down
Down Among the Sticks and Bones
Rolling in the Deep
Binti
Akata Witch
Akata Warrior
Xenogenesis
The Overdue Life of Amy Byler
Twilight
Lord of the Flies
Eleanor and Park
Of Curses and Kisses
Xeni: A Marriage of Inconvenience
Rafe: A Buff Male Nanny