Greetings My Dearest Bookworms,
It's time to tell you all about the books I poured into my brain this week. I'm a little astonished that I've been reading so much lately, especially given the toddler running around my house. I *may* be reading to de-stress more than usual since toddlerhood is stressful for both children and parents. But, honestly? Reading as a coping mechanism is an extremely healthy and productive choice. Would exercising while listening to an audio book be an even healthier choice? Yes, probably, but I am a work in progress. On to the books!
I finished up listening to Tessa Dare's Any Duchess Will Do
. It was sort of a Pygmalion/Cinderella mashup with that signature Tessa Dare humor and Regency romance flair. It also had some of the *ahem* steamiest scenes I've yet to read from Tessa Dare (and she is no stranger to steam, let me tell you.) So there's that for you. On the whole? It was delightful. Also I highly recommend the audio version because a lot of the diction scenes wherein Pauline works to overcome her "country" accent wouldn't have been quite as enjoyable if I'd read rather than listened to them.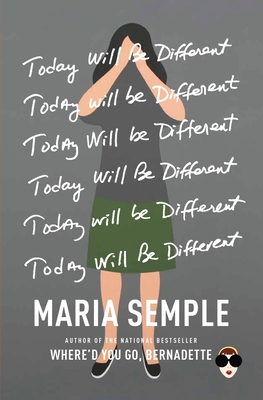 When I started Today Will Be Different
by Maria Semple on audio and immediately recognized the narrator's voice but couldn't place it. I had to google to discover it's the actress who played Luke's sister Liz in Gilmore Girls. Kind of funny, because as I was hunting for a new audio book, I was sifting through some literary fiction titles and it occurred to me that whatever book Jess wrote (we're still talking about Gilmore Girls, stay with me) was probably unimaginably pretentious and I would have hated it. I remember really enjoying Maria Semple's earlier book Where'd You Go, Bernadette
(review), but it's been so long since I read it, I'm not sure current Katie would have liked it as much. I was lukewarm at best on Today Will Be Different
. It was a little zany, a la Bernadette, but the whole wealthy, snarky, middle age woman with a formerly brilliant career thing just exhausted me. It had funny parts, but I found myself cringing a lot more than laughing. I do think the narrator was fabulous, though, and she has a stellar singing voice to boot- Kathleen Wilhoite was easily the best part of this whole experience.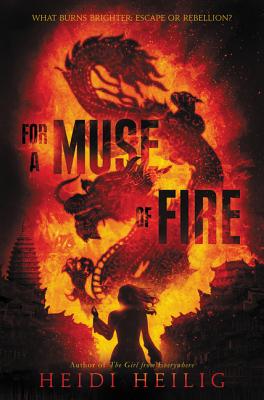 For a Muse of Fire
by Heidi Heilig was the last eyeball read I crammed into my brain this week. I loved her books The Girl from Everywhere
(review) and The Ship Beyond Time
(review) which meant this book had a lot to live up to. And you know what? It totally did. It was also fresh and different and a fascinating new mythology. She didn't just recycle what had worked before- this was some next-level excellence. While the book's world is purely fantasy, it's clearly inspired by European colonialism in Asian cultures. Set against a backdrop of unsettled political machinations and rebellions, a small family of shadow players (think elaborate puppetry in silhouette) is gaining renown. It's mostly due to the main puppeteer using a potentially dangerous magical power to direct her super cool puppets. A little bit of necromancy never hurt anyone, right? (Hang on, I'm reflecting on how amazing it is that two authors can take the same relatively narrow concept, like, say, necromancy, and produce such wildly different work. Gideon the Ninth
by Tamsyn Muir and For a Muse of Fire are based around the same magical idea and are SO DIFFERENT. Also, both super good. Add Gideon the Ninth
to the list of books I read and didn't tell you about.) For a Muse of Fire
 is the beginning of a planned trilogy- the second book was released in October, but the third isn't out yet. I look forward to revisiting this world in future installments!
Now that we've covered all that ground, what am I reading this week? I was able to snag a copy of Love Lettering
on audio from one of my library's many e-book services (Hoopla this time) so I'm listening to it now. Thus far I'm a little underwhelmed, but it's early days. One of my book friends Sarah (she used to blog, but is now talking books via social media… I think her accounts are locked/private, but I promise she's real and extremely awesome) inspired me to finally read some Beverly Jenkins, who is a romance household name. Therefore, I'm currently reading Destiny's Embrace on my kindle. It's the start of a trilogy and I bought them all together (I love a sale!) but the first word in each title is "Destiny's" and FOR THE LIFE OF ME I cannot remember what order they go in. I've pulled up Goodreads for reference at least three times just this morning. So, Bookworms- what are you reading this week?
*If you make a purchase through a link on this site, I will receive a small commission. Text links within the copy direct to Amazon, but if you're interested in purchasing any of the above mentioned books from an independent book store, please see the links below*
For a Muse of Fire
Gideon the Ninth
Today Will Be Different
Any Duchess Will Do
The Girl from Everywhere
The Ship Beyond Time
Destiny's Embrace
Love Lettering