Hiya Bookworms!
I've been binge reading romantic comedies recently, and I'm proud to admit it. I was just chatting with a friend and described my recent reads as, "Just delicious. The same warm fuzzies as Hallmark movies but infinitely wittier and, dare I say? More charming!" I read a lot, obviously, and I enjoy most of what I read, but I've been feeling especially enthusiastic about romance lately. Like, bubbly and wonderful and fizzing over with joy. Romance is a wide and varied genre, and there's something for everyone. People who don't read romance tend to get this Fabio-on-a-Horse impression that really only fits a sliver of what's out there. I've recently discovered this sweet spot of cheeky, smart girl, pop culture laden banter, and explicit consent that is just *chef kiss* wonderful. Remember back in the early days of this blog when I used to put together top ten lists all the time? It was a formal thing, with like, other participants, but whatever. TOP TEN ROM-COMS COMING UP!
ONE: Dating You / Hating You
by Christina Lauren- I loved absolutely EVERYTHING about this book. The protagonist is a successful
Hollywood agent who meets her love interest by accidentally wearing coordinating Harry Potter costumes to a Halloween party. Of course, he couldn't just be a cute guy she happened to meet at a party. He's another Hollywood agent and the two unexpectedly find themselves working together and in direct competition. Dun dun duuuuuuuuuuuuun! This book literally had me from scene 1. You know how when you're texting you "LOL" when it's really more of a quick exhale and sly grin? I legit guffawed while reading some of these scenes. This book was my Christina Lauren gateway drug and I've since read almost all of their standalone novels. This is still my favorite, but they're all pretty great, so pick up whichever one finds you first.
TWO: When Dimple Met Rishi
by Sandhya Menon- This is easily the best YA rom-com I've ever read. I read it while I was still pregnant
with Sammers and have meant to give it its own glowing review for ages, but have never figured out a way to appropriately capture its brilliance. That's not a good enough reason to keep it to myself though, so READ THIS BOOK. Dimple is a driven, brilliant, teenage computer coder whose parents secretly try to set her up with Rishi, a suitable Indian boy en route to a suitable career. It is all very suitable. Except Dimple wants none of it. Only Rishi is a total dreamboat of a guy so, well, she maybe kind of falls for him? Nothing more annoying than having your traditional, overbearing parents be right about something, you know? It's so, so sweet. And there's a sequel that should be out soon which I am more than a little excited about. Eeeeep!
THREE: A Duke by Default
by Alyssa Cole- THIS IS THE SECOND BOOK IN A SERIES. You will want to start with A Princess in Theory, which
is also excellent, but since I started out of order, this will always be my first Alyssa Cole and therefore I shall always love it a little bit extra. Our protagonist is bright and charming, but hasn't quite figured out what she wants to be when she grows up, so she applies for an apprenticeship with a Scottish swordmaker. As one does. Of course, #swordbae is all dashing and handsome in a rugged, bristly, blacksmith sort of way. And he might have a royal title he's unaware of. These things happen sometimes.
FOUR: Can't Escape Love
by Alyssa Cole- This is a novella and part of the aforementioned Reluctant Royals series but it is my super favorite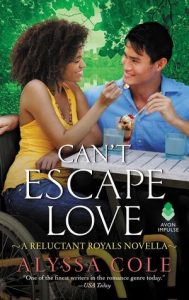 of the bunch and I can't even. The protagonist from A Duke by Default has a fraternal twin sister who runs a geeky girl website and her love interest is obsessed with puzzles. Everything about this book is adorable and I very much want to taste the miraculous salad dressing that Hottie McHotstuff (his name is Gus, although, I think the nickname is apt) used to woo his lady love. I hate cooking, so I find romantic heroes who cook extra swoonworthy.
FIVE: Geekerella
by Ashley Poston- I'm honestly awed by what must go into crafting any book plot, but when an author manages to create
a whole plot within a plot I'm doubly impressed. I've seen it done before (shout out to Rainbow Rowell's Fangirl
(review), whose fictional universe actually spawned its own book, Carry On
(review), etc.) but it's like watching someone do back flips. Just, dang. This is a modern Cinderella story, only Elle's last link to her parents is an intense fandom for a short lived sci-fi TV show. When a big screen adaptation is in the works, our protagonist is devastated to see a cheesy soap star land the lead role. Little does she know he's secretly as big a nerd as she is. Cosplay ensues. So much cute.
SIX: The Kiss Quotient
by Helen Hoang- Imagine, if you will, the plot of Pretty Woman
, only way, way better. Stella has a brilliant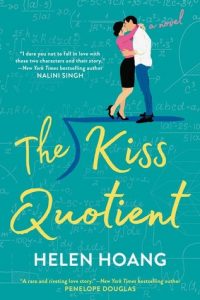 mathematical mind, but her devotion to the job she loves has left her with little in the way of a social life. The fact that she has Aspberger's and imagines kissing as more nature documentary than sweeping romance has also hampered her dating life. Being extremely logical, Stella decides that the solution to this conundrum is that she needs professional help. From an escort. Enter Michael Phan, outrageously handsome gentleman caller. This book is equal parts sweet and steamy. I turned into an actual heart-eye emoji while reading it.
SEVEN: The Wedding Date
by Jasmine Guillory- Meet cute in a broken elevator? Yes please! Alexa and Drew happen upon each other by
chance and she impulsively agrees to be his last minute date to a wedding, so he can save face in an awkward situation. Obviously, they both catch feelings, and, well. Romance. It's a super fun read with lots of extremely delicious-sounding takeout.
EIGHT: To All the Boys I've Loved Before
by Jenny Han- This book is SO PURE. Lara Jean writes letters to her crushes as her way of dealing
with heartbreak. When the letters are mysteriously mailed to all the recipients, shenanigans ensue. This book kicks off a trilogy
which is wonderful, but the first book is where it's at for peak swoons. I haven't seen the Netflix movie, though I hear it's amazing and getting the sequels it so rightfully deserves. Lara Jean gets me, I tell you what.
NINE: 99 Percent Mine
by Sally Thorne- I love a prickly female protagonist, and Darcy is one of the best. She's also a steaming HOT MESS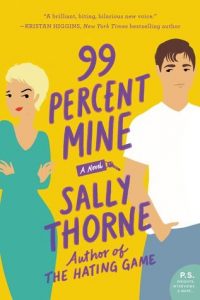 which is something I can appreciate. She's been in love with her twin brother's best friend since childhood, but knows he's "off limits." So, she takes her hot mess self on a worldwide tour of general self destruction only to end up back where she started, embarking on a home renovation with the object of her affection. It's a slow burn with lots of tension and tons of snarky dialogue. Bonus points for the BFF who designs comfortable underwear with profanity emblazoned across the seat.
TEN: Roomies
by Christina Lauren- Irish guitar virtuoso love interest. IRISH GUITAR VIRTUOSO LOVE INTEREST!!! Sorry, got ahead of myself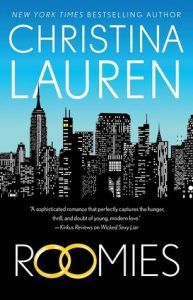 for a second. Our girl Holland has a mad crush on this hottie who plays guitar for tips in a subway station. Because he's insanely talented, she lands him an audition for her uncle, a super Broadway producer guy. It's all going great… Until it's discovered that Calvin (the Irish guitar virtuoso, natch) massively overstayed his visa and will be deported to Ireland if he accepts above-board work on Broadway. Which obviously means… Sham marriage time!
What are some of your favorite Rom-Coms, Bookworms?
*If you make a purchase through a link on this site I will receive a small commission.*