Hiya Bookworms!
This is probably the least surprising thing about me, but I LOVE reading stories to little kids. One of the things I looked most forward to when I imagined having a child was the bedtime stories. Reading in our house is not confined to bedtime by any means, but since my husband and I both work full time and the kiddo goes to bed early, there's not a lot of time on weekdays to read outside of the bedtime routine. (I am NOT complaining about the early bedtime, I LOVE the early bedtime, please do not smite me, Universe!) Sammy has liked to participate in the story time process by turning pages for quite a while now, but he's starting to get REALLY excited about lift-the-flap books (and any book with an interactive element.) Here are some of our current favorites.
ONE: Dear Zoo
 by Rod Campbell- This was a gift from the sweet, wonderful, Stacey at Unruly Reader. My BEA commuter squad met up for a little reunion when I was, like, medium pregnant with Sammers. Stacey had picked up a couple of books for me that her nieces and nephews had loved, and this was one of them. It's so cute! Imagine writing the zoo to ask for a pet and being sent a series of animals that aren't what might traditionally be considered house pets. Until, the end, that is, when SPOILER ALERT, the narrator receives a "DOGGY! DOGGY! DOGGY!" as Samuel so succinctly puts it.
TWO: Never Touch a Monster
 by Rosie Greening, Illustrated by Stuart Lynch: We've got a wide variety of books with texture in our library, but this one is delightfully unique. Instead of having little patches of fabric for texture, these monsters have this funky silicon nubby stuff. It's a sensory delight for me as a grown woman, so it's no surprise Sam loves it too. It's also got some really fun rhyming and general silliness so it's great fun to read out loud. We're very lucky in that Sammy's Grandma (a retired elementary school teacher) is exceptionally passionate about children's literacy and gives him books at every giftable occasion, some questionably giftable occasions, and frequently just because. This was, unsurprisingly, one of her finds. (Sammy's Nana is also an avid reader, but as a semi-retired dental hygienist, she's more likely to make sure her grandson is in possession of high tech toothbrushes than books, which works out well. He has his own Sonicare AND an impressive library. This child wants for nothing.)
THREE: Little Red Penguin Shapes
, Colors
, Words
, Numbers
 by Angela Muss: I actually purchased this set of board books myself which is kind of surprising. We have received so many books as gifts that our shelves are full to bursting without much help from me. Sammy's daycare did a sale through Usborne books. Knowing the school was going to get a percentage of the overall purchases in free product was what finally made me take the plunge, as I've been invited to many digital Usborne "parties" and never made a purchase. These are sturdy little board books with lots of colorful illustrations and plenty of flaps to lift. Obviously, my primary motivation in ordering this particular set was the penguin protagonist, but I'm very pleased with the quality. I do have to admit that when I purchase board books, I usually get them from discount retailers. As a result, the price on these felt a bit high to me for something that's going to end up battered and soaked in drool, however I don't think the prices are terrible when compared to list price on similar books. (PSA: If you haven't gone on a book binge through Book Outlet, you're missing out.)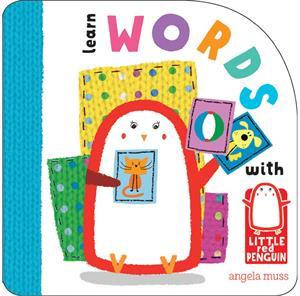 FOUR: Hi-Five Animals!
 by Ross Burach: Rather than having flaps or textures, this book is interactive in that you literally hi-five it. As you turn the pages, different animals hold up various appendages asking for you to give them a love tap. It's a really fun book to read with a toddler (I'm guessing this would be a big hit with the preschool set as well.) Who doesn't like to give hi-fives? Plus, hi-fives are a nice alternative greeting for kids aren't comfortable giving hugs to everyone who asks. I've accepted many a hi-five from bashful tots. There have actually been a couple of times when I go to pick Sam up at daycare and a random kid will run up to me. I'd be happy to give them a squeeze, but if I don't know their parents, I think it's kind of weird to go in for the hug, so I offer them a hi-five instead. I can't take responsibility for the one time I sat on the ground to read Sam the book that he handed me and another kid crawled into my lap, though. I doubt that little girl's mom would have minded because she's one of the few daycare parents with whom I've shared friendly banter. I'd totally be Mom Friends with her. You know. If I knew how to make Mom Friends. (I have plenty of friends who are also parents, but I've never made a parent friend directly through my child. That's what I mean by "Mom Friends." I feel the need to clarify that, for fear of receiving sassypants texts from my actual IRL friends, Book Club being the most likely culprits. They're the sassiest.)
FIVE: That's Not My Penguin
 by Fiona Watt: This was a gift from one of Sam's baby showers, and, coincidentally, another Usborne book. It shows a different penguin on each page highlighting a textured feature that proves they are not "MY" penguin. Fuzzy tummies, shiny beaks, fluffy penguin chicks- it's really cute. We also have one of the siblings to this book which replaces the penguin with a reindeer. I think there are at least a couple of other animals available too, but OBVIOUSLY this is my favorite. We have more than a few penguin related titles. I'm not mad about it.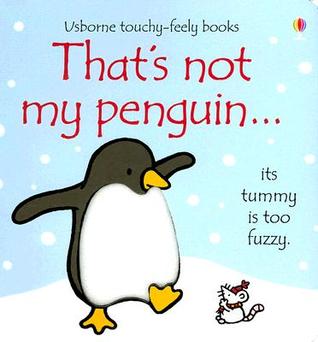 SIDE NOTE: Remember how I posted about a month ago that I was concerned about Sam's lack of walking? HE CAN WALK NOW! The doctor was right, being the only non-walker in the toddler room put a bee in his bonnet and now he toddles around like a drunken sailor. It's ridiculously cute. It'll probably be less cute when he's running away from me in public, but I have one of those backpacks with a tether and I'm not afraid to use it, SAMUEL. I'll take the side eye from other parents for having a kid on a leash over my kid running into traffic any day of the week, y'all.
*If you make a purchase through a link on this site, I may receive a small commission.*