Greetings, Bookworms!
'Tis the season for pumpkins and candy, so I thought I'd share a few of the seasonally appropriate books I've been reading with Sammy lately. My son has a very impressive library, and, like his very impressive wardrobe, it has little to do with my own shopping. We've got some very astute children's literature aficionados in our orbit who like to spoil the young sir. As a result, Sammers literally has entire stacks of books dedicated to different holidays, and Halloween is one of the best represented.
I LOVE Halloween. Always have. Of course, my love for it never evolved past a child-like infatuation with costumes and trick-or-treating. I abhor haunted houses (jump scares are the actual worst), and don't much care for horror movies or literature (though there are some exceptions). I just want to hand out lots of candy while wearing a giant pajama onesie that doubles as a costume while I watch Hocus Pocus
for the fafillionth time. Thus, books aimed toward young children hit the sweet spot of everything I love about Halloween. It makes for magical bedtime reading. Here are some of my (and Sam's!) current favorites:
ONE: 10 Trick-or-Treaters
by Janet Schulman, illustrated by Linda Davick. This one is Sammy's favorite. It's an adorable rhyming countdown book in which Trick-or-Treaters are frightened off one by one (that sounds like it might be scary, but it isn't at all. It's just cute. It's very clear to the reader that all the things startling the children are either benign or just people in costumes.) When they get down to 2 Trick-or-Treaters, there's a scene with a person in a mummy costume coming out of an elevator that makes Sammy giggle. Why that particular illustration appeals to him, I do not know. But who can argue with a delighted 1 year old? And why would you want to?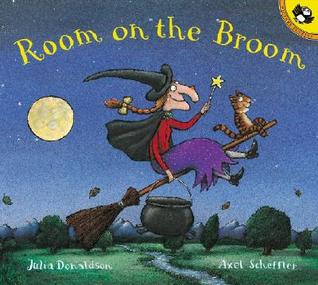 TWO: Room on the Broom
by Julia Donaldson, illustrated by Axel Scheffler. This one is MY favorite. It isn't strictly Halloween related, which is good because I'll be reading it year-round. A witch on her broom keeps adopting animals to adorable effect. The rhymes are such fun, and the illustrations are so cute. I actually saw a cartoon version of this before we got the book- it must have been on PBS Kids because where else would that sort of thing happen? Anyway, it's delightful for parents and kids. Fabulous to read aloud!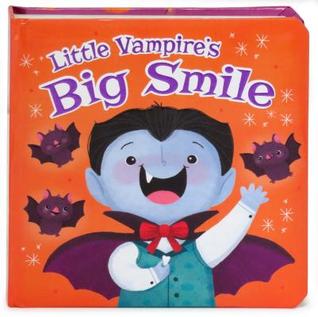 THREE: Little Vampire's Big Smile
by Rose Von Feder: In this super cute little book, a young vampire looses his tooth while bobbing for apples at a Halloween party (let's just ignore how unhygienic that activity is. I'm not even super skeeved by germs and ew.) It all ends well of course, when the Tooth Fairy (who is a bat, duh) delivers a gold coin and a new tooth to our dear Bertie. This book is exceptionally appropriate at the moment for my child whose canine teeth have just erupted. (It's a bit ridiculous, really. Of all the things my child could have developed early, it's teeth. He's got 16 teeth at not quite 14 months. Probably why he's not walking yet. Teething is distracting, yo.)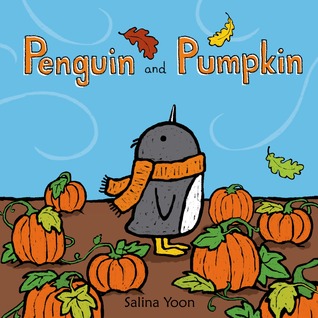 FOUR: Penguin and Pumpkin
by Salina Yoon: OK, this isn't strictly a Halloween book, it's more fall, but I absolutely ADORE Salina Yoon's Penguin books. They're so sweet, and, obviously, PENGUINS. We actually do have a Halloween specific Salina Yoon title, Where's Boo?
, and while it's adorable, it doesn't have much of a story. That's a thing with baby books. It's important for babies to have access to simple books full of pictures and just a few words that they can get handsy with- bonus if there are sensory aspects, like in Where's Boo? It's just that they're not as much fun for ME to read at bedtime, whereas Penguin has the most delightful adventures. I'd recommend ANYTHING by Salina Yoon for your little one, but Penguin will always hold a special place in my heart.
This list doesn't even scratch the surface of our Halloween book stack, but since a lot of them fall into the sensory/flap lifting/not so much story category, I'll keep it short. I may tackle those another day. I'm going to leave you with this pic of Sammers (and me) that was taken just after his first hair cut (cue Mom sobbing.) His hair was growing into a weird rat tail situation, and since it's not 1991, I thought we should nip that in the bud. He's wearing some sweet Halloween duds, though!
What are some of your favorite kid friendly Halloween reads, Bookworms?
*If you make a purchase through a link on this site, I may receive a commission.*