Hidey Ho, Bookworms!
I'm a bit of an impulse shopper when it comes to books on sale. I mean, a friend tweets that something they loved is on sale for $1.99 and I am THERE. Lightening quick one-click purchase. At least, I was. I try to be a little more careful these days, because I kind of accidentally purchased a romance novel on my company's Amazon account. WHOOPS! Luckily, my bosses were super cool about the whole thing. They were barely phased, honestly, probably because they've been dealing with my shenanigans for over a decade. I was embarrassed for a hot minute, but after I cancelled the order, repurchased the book on my personal account, and read it? I haven't a single regret. Because let me tell you something. A Bollywood Affair
by Sonali Dev was an absolute treat.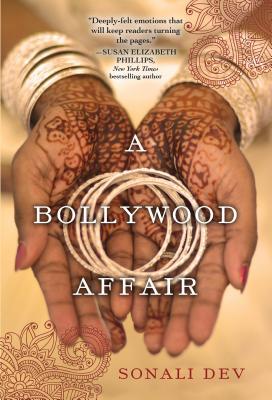 Mili Rathod is a married woman in the least conventional sense. To start, her marriage took place when she was a mere four years old, and she hasn't seen her husband since the event took place 20 years ago. The situation is less than ideal, to say the least. Still, Mili's marital status has afforded her opportunities almost unheard of for girls in her village. She managed to convince her grandmother to allow her to leave India and study in the US for 8 months in order to mold her into the perfect modern wife. You know, so she can lure her childhood husband back. It's complicated.
Samir Rathod is a playboy Bollywood director, the toast of the town… Who is not above running halfway across the globe in order to secure a divorce for his older brother, who is in no shape to do so himself. Samir isn't worried about convincing a simple village girl to sign the paperwork, even if he does have to go to Michigan to track her down. Instead of a naive girl or a gold digger, Samir finds Mili, a fiercely loyal, intelligent, and kind woman. Before he knows it, Samir is pulled into Mili's life in ways he never imagined.
Right. So, yeah. This book is totally 100% a romance novel. A sweet, charming, inventive, and cheeky tale of love despite ridiculous circumstances and seemingly insurmountable odds. I loved every bit of it. Every tasty morsel. I couldn't put the book down and I'm downright swoony over it. I mean, it was deliriously romantic AND a learned a whole bunch of interesting stuff about modern India and Indian culture. Just a pleasant reminder of why I adore books so darn much. Now, if you'll excuse me, I have a whole world of Bollywood romance novels I need to explore.
Talk to me Bookworms! What is the swooniest book you've ever read? I could use some romance recommendations. 
*If you make a purchase through a link on this site, I will receive a small commission.*