Hey There Bookworms,
I know, I've been so MIA lately. I'm reading and tweeting and also (apparently) snapchatting (wordsforworms is my username!) but I just haven't been able to gather my thoughts enough to write a blog post. I blame summer. I want to do nothing but stare at flowers and lounge and read. Computer-y things are really more conducive to cooler temps and earlier sunsets (not that I WANT those things, because I do not. I want to wring all the joy out of summer that I can. All that sunshine is FREE VITAMIN D! I have to take a supplement in the winter.) Anywho, I'm calling today's blog post "In case you were wondering." Just in case you were.
In case you were wondering where I've been, there's been a lot of home improving going on at the Gingerbread House. Not that we did ALL the heavy lifting (we're smart enough to know our limitations and pay people who know what they're doing) but it's been time intensive. We got new windows installed on the first floor and had a boatload of landscaping work done in the backyard. But even paying people to do the hard parts? You've still got to do the cleanup and odds and ends and play in the dirt and plant more flowers because OMG MORE FLOWERS. But BEHOLD:
In case you were wondering what it's like to be friends with me IRL, here's a text exchange between me and my Bestie. (I also recently told her that she reminded me of garbage, since at one point she'd given me a set of penguiny bathroom accessories complete with trash can that I still use. Sometimes I wonder why she still talks to me…)
ME: I miss you. Here's what I'd look like if I were a Yorkie.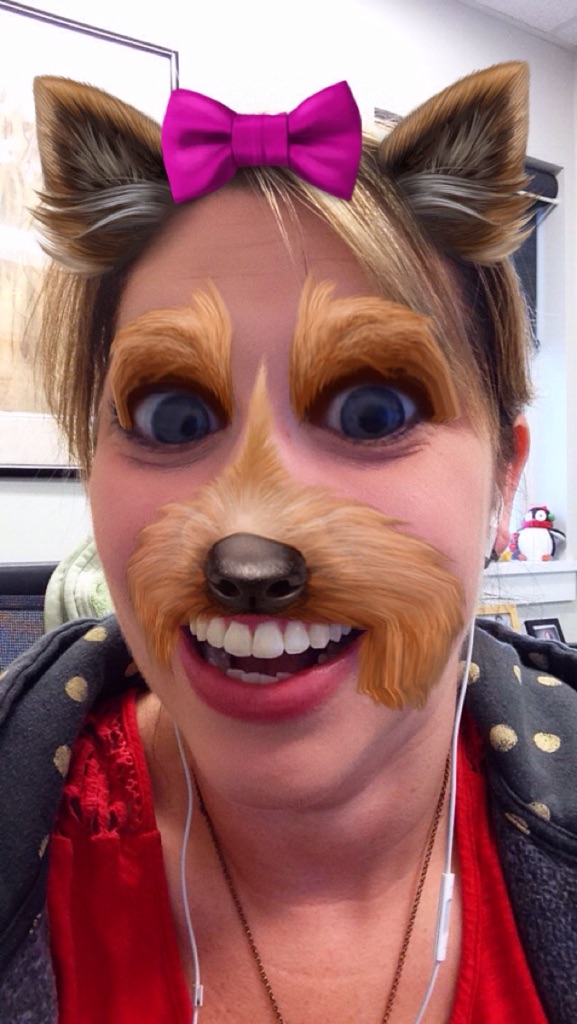 BFF: Jesus. That's kind of terrifying!
ME: I know, right? And yet, I am fascinated. Like in Mars Attacks!
when they put SJP's head on a chihuahua body…
BFF: Yeah, I think it's the gigantic eyes that really push it over the top…
ME: The better to see you with, my dear.
BFF: You look like you should be on Zoobilee Zoo. The kids love it, by the way.
ME: Ha! Give them my love!
BFF: Your… Puppy love? (womp womp)
ME: Yep. Lick them.
BFF: Omigod, I just drooled coffee all over myself LOL-ing at that!
In case you were wondering if my eyebrows look like this Snapchat filter when left untamed? Yeah, basically. Also, I should have worn my retainer more. My bottom teeth are back to being kind of janky and crooked. Fingers crossed my Mom doesn't read this blog or she'll find a way to get me a new retainer…
In case you were wondering what I did on the 4th of July, we had family over to enjoy the new back yard and watch the parade that goes right past our neighborhood.
Alright, you're officially all caught up. What have you been up to? Tell me everything, Bookworms!
*If you make a purchase through a link on this site, I will receive a small commission.*