Hidey Ho Bookworms!
Man, life has been getting away from me. I have read oodles and oodles of books that I have yet to tell you about. I'm simply having the worst time getting myself to write coherent thoughts. In the spirit of incoherence, though, it's Wednesday. Time for Bookish (And Not So Bookish) Thoughts! (Thanks to Christine at Bookishly Boisterous for my new favorite game.)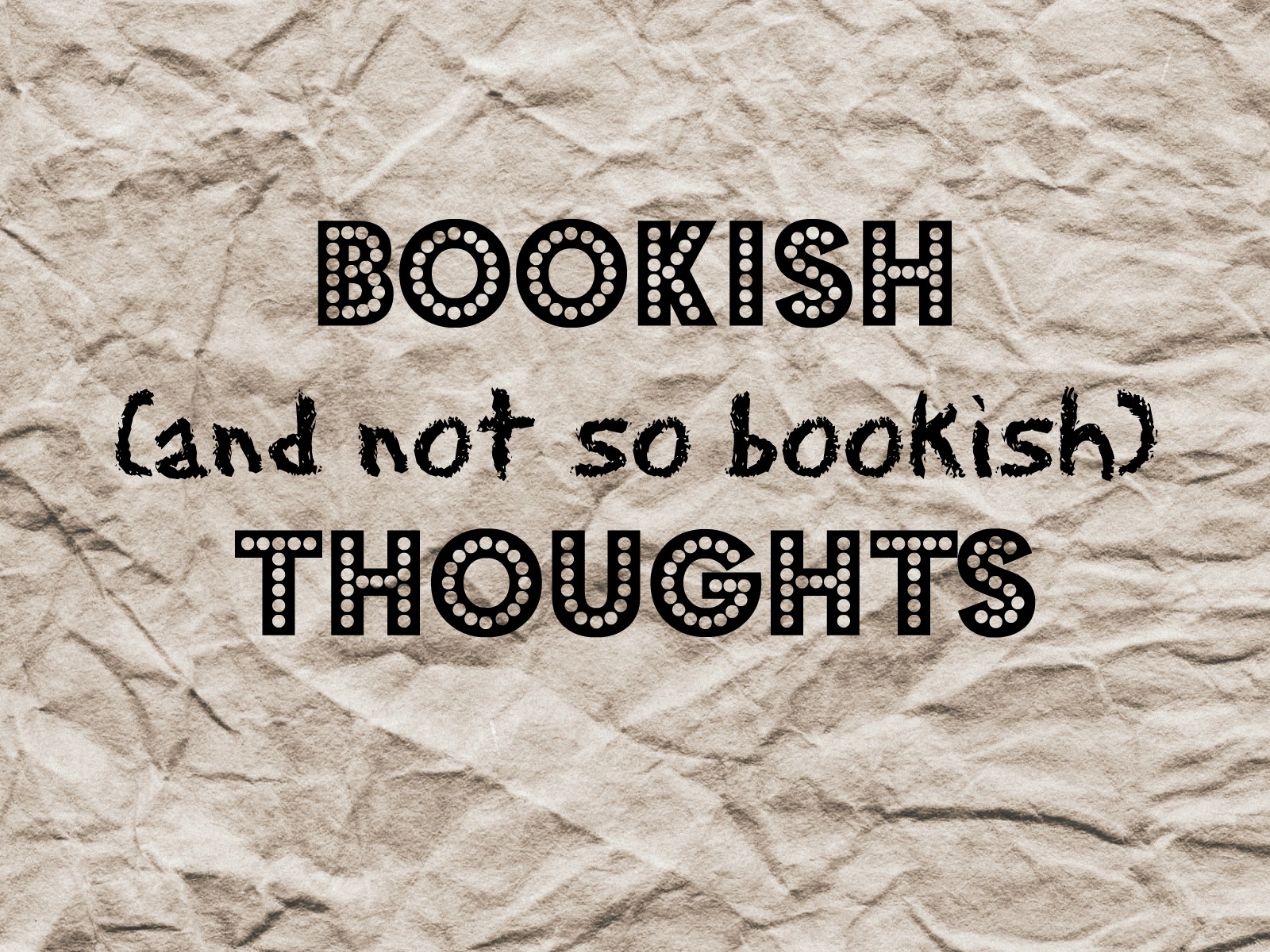 ONE: I returned from Cincinnati on Sunday, and though I'm happy to be back home with the Hubs, every time I part company with my bestie, I'm transported back to being 14 years old at an airport saying goodbye to the BFF who moved from Illinois to Maryland. I mean, we generally devolve into our pubescent selves immediately upon meeting anyway, what with the giggling, Dave Coulier jokes, and spontaneous Fountains of Wayne singalongs, so I tend to get a little misty when saying goodbye. And now that there are adorable little kids I have to say goodbye to as well? Suffice it to say I left a little piece of my heart in Ohio.
TWO:  I have several pieces of furniture containing collectibles and odds and ends in my house, not to mention a statue of a penguin butler (Alfred rules.) You might think that I had one of the more whimsical living spaces of my friends as a result of these things, but you know what I don't have? A gold gryphon mask perched atop a dress form wearing an Elizabethan doublet and ruff. That's right. My pal has a degree in costume design and Godric (I named him) is simply the compilation of a couple of her school projects on display. He was hanging out in the guest room, so she obligingly hid him behind some furniture along with another scary mask so I wouldn't wake up in the middle of the night terrified. Her kids will always have the most amazing Halloween costumes. If she can get Junie to wear something other than a tutu, that is.
THREE: Hanging out with my nieces and nephews is my favorite. Being Crazy Aunt Katie is so much fun, I can't even tell you. And I'm not just talking about all the awesome kid lit I get to buy (though that is a major perk. Do you know how many picture books there are about penguins? I mean, it wouldn't be weird for me to buy doubles of them just to keep for my own purposes, would it?) I am also talking about the fact that when I went to pick Jack up from school on Friday, one of his little 2nd grade friends asked who I was, then said "Wow, she looks really young." I'm sure it didn't hurt that I was wearing a t-shirt bearing the Disney version of the Cheshire Cat (complete with sparkles) but I'm going to accept the compliment at face value and embrace my (apparently) youthful countenance. Thanks, random 2nd grader!
FOUR: I'm going to BEA in Chicago this year. For those not in the know, it's Book Expo America, a giant trade show for the book and publishing industry. Because APPARENTLY I qualify as an industry professional. Sort of. Anyway, I'm very excited, but I'm also super nervous. There will be plenty of bloggers there that I "know" but I've met none of them in person. When I went to BlogHer, I attended with Chrissy (fellow blogger, college roommate, and easily one of the most important people in my world) so she HAD to hang out with me even though there were cooler people around. I have no built in safety person and I'm currently the queen of anxiety. I don't feel cool enough or in-the-know enough or smart enough or anything. But I also know that if I don't go when BEA is in my proverbial backyard, I'll never go and that I'll always regret it. Soooooo. I'm going. I'm also sleeping on my SIL's couch which means I'll get to snuggle niece in the evenings post conference. Emma thinks I'm cool. Just because she's still in diapers doesn't mean she doesn't have good taste, right?
FIVE: READATHON is THIS WEEKEND!!! Have you signed up yet?
I think that'll do it for today. I've got other things rattling around in my noggin, but I'm going to attempt to channel them into some book review posts. Yeah, I don't really think it's going to happen either, but a girl can dream. What are you up to, Bookworms?