Howdy Bookworms!
It's time again for my disjointed thoughts on random things, otherwise known as Bookish (And Not So Bookish) Thoughts hosted, as always, by Christine at Bookishly Boisterous. Here are some of the things that have been floating around my head this week…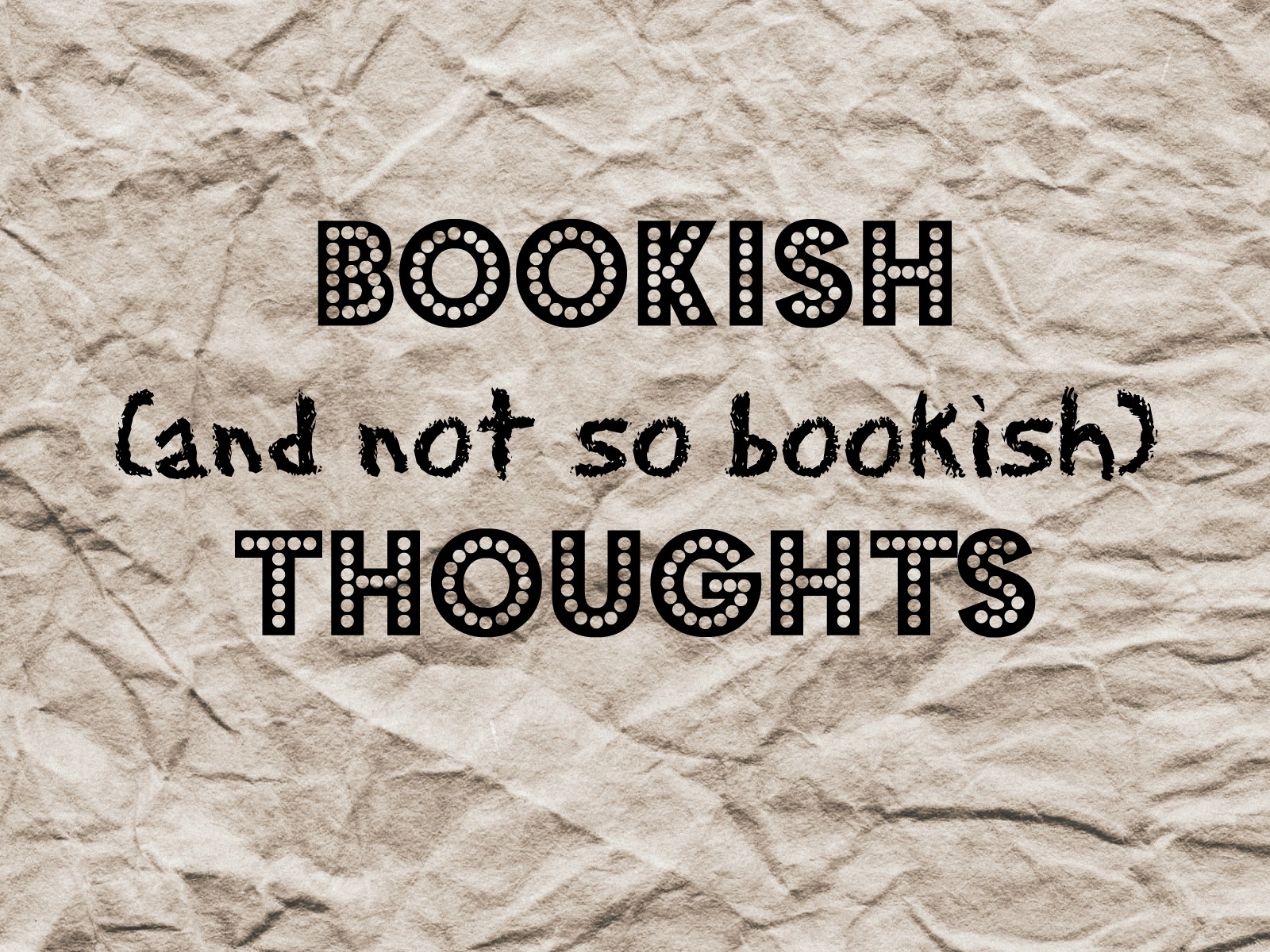 1. Hubs recently uncovered one of my high school journals and has taken to doing dramatic readings of some of the more angsty passages. It's not even flowery overwrought prose, it's mostly histrionics of the soulless-ness of unnamed people. Obviously it was VERY SERIOUS despite the fact that I have absolutely no recollection as to what it was about. A boy? A fight with a friend? A teacher? I honestly have no idea. It's like I vague-booked pre Facebook. It also reminds me that I'm intensely grateful that social media didn't exist until I was (mostly) a grown up. I used to think I should keep all those journals for posterity, but right now I kind of just want to burn them all.
2. I'm going dress shopping this weekend because one of my besties is getting hitched. I take my Matron of Honor duties VERY SERIOUSLY… Mostly in that I promise not to complain that I'm going to be wearing a very bright shade of pink in this wedding. Speaking of bridesmaid dresses though, I cannot seem to get rid of mine. It's not like I will ever have occasion (or desire) to wear them again, and yet I haven't gotten rid of any of them. I'm guessing this will be the last wedding I'm asked to stand up in, so maybe I will be able to part with them once my bridesmaiding days are officially behind me. Or maybe I'll just continue to let my closet be dominated by brightly colored satin.
3. I voted in the primaries on yesterday. My polling place was changed from where it's been forever- I was given ample warning on this, so no worries. BUT. The new place is much further from my house. Boo. Also, they had no stickers! I heard the same thing last time I voted, at the old polling place. No stickers. They always say "yet" as though someone will be dropping them off later in the morning, but really? Dude, they're stickers. Can those not arrive in advance with the rest of the polling stuff? Couldn't the election judges bring them along? Does that strike anyone else as weird? Is my voting precinct not good enough for your stickers?! All kidding aside, I voted. Even though I have ZERO desire to engage in political discussions on the internet, I do care.
4. Tomorrow is St. Patrick's Day. I put a reminder into my phone so I wouldn't forget to wear green this year… Speaking of St. Patrick's Day, last year I participated in Trish's A Day In The Life event by logging the ins and outs of a random day and I plan to do so again this year. St. Patrick's Day ended up being the day I logged last year so I'll probably do that again, for comparison purposes. I imagine they will be shockingly similar, EXCEPT that this year I won't have to go on an emergency green run. I hope. (Read last year's post HERE if you're interested.)
5. My thoughts tend to skew toward the not-so-bookish, don't they? In bookish news, I'm juggling a trio of books. I'm working through The Walking Dead: Compendium Three
in giant paper book form, reading The Summer Before the War
by Helen Simonson on my Kindle, and listening to Shades of Grey
by Jasper Fford. Oh crap. That reminds me. I need to renew my library card. It feels like I JUST did this… But it turns out that was two years ago. Goodness.
What's been swirling around in your brains, Bookworms?
*If you make a purchase through a link on this site, I will receive a small commission.*