Greetings Bookworms!
I don't typically read a lot of non fiction, which is a crying shame, really, considering there are some fabulous titles out there. Few things get my dander up more than the way women are written out of history and/or their contributions are glossed over. Blame it on the dual History and Women's Studies minors. It shouldn't surprise anyone to hear that Liar, Temptress, Soldier, Spy: Four Women Undercover in the Civil War
 by Karen Abbott was an audio book offering I simply couldn't pass up. When I try to read nonfiction with my eyeballs, my brain tends to get overloaded with facts and give up… Meaning I fall asleep. I don't have a good reason for this, but audio works better for me.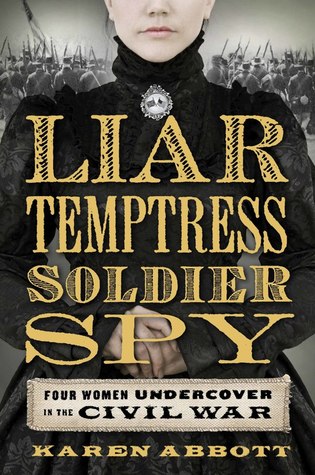 Liar, Temptress, Soldier, Spy: Four Women Undercover in the Civil War
 tells the stories of four different women participating in some seriously scandalous (for the time) activities. Elizabeth Van Lew was a staunch Unionist who found herself behind enemy lines when the Confederacy decided to make her hometown of Richmond into their capitol. Emma Edmonds felt the need to serve the Union so strongly that she cut off her hair and went undercover as a man to serve in the army. Of course, the Union didn't have a monopoly on undercover ladies. Belle Boyd started the war off with a bang by shooting a Union soldier and then became a courier and spy for the Confederacy. And let's not forget Rose O'Neale Greenhow, widowed socialite whose dalliances with high powered politicians put her in the perfect position to become the Queenpin of a spy ring for the Confederacy.
Guys, I learned SO MUCH from this book! The only one of these ladies I knew much about was Elizabeth Van Lew, thanks to good old historical fiction in The Spymistress
by Jennifer Chiaverini (review). Now, I'm no Civil War scholar. So much of this book was new information for me and I just gobbled it up. There was one thing though that really stuck with me. While reading this I kept being like "OMG General McClellan, you are really bad at war." The North seems to have gotten the short end of the stick when it comes to military leadership. On paper, this war should not have been this hard to win or lasted this long or cost so many lives. I'm sure there are many varied and complex reasons for the war stretching on the way it did, but this was my takeaway. General warring ineptitude. This is why I should never, ever be used as a source in a research paper!
Talk to me Bookworms! What's your favorite non fiction title? I might need to make a little reading list. For my ears.
*If you make a purchase through a link on this site, I will receive a small commission.*