Hello My Darling Bookworms,
I have a nasty habit of reading books about writers whose books I have not read. I mean, if you can say that two books constitute a habit… I recently finished The Swans of Fifth Avenue
by Melanie Benjamin which is about Truman Capote and his gang of high class New York socialite gal pals. Having read nothing by Truman Capote, everything about this book was new territory for me (much like The Dream Lover
(review) was all new to me because I knew jack about George Sand). *I received a complimentary copy of this book for review consideration from the publisher through NetGalley. This in no way affects the honesty of the following review, as I am ungrateful and tacky.*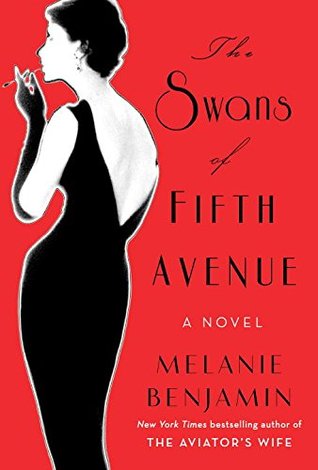 Truman Capote, renowned author, was an odd, though charming fellow transplanted from small town Alabama to high glamour New York City. Diminutive and charismatic, he managed to collect a bevy of beautiful and impossibly wealthy Manhattan socialites as his inner circle in the 50s and 60s. Chief among them was the seemingly flawless Babe Paley, wife of CBS mogul Bill Paley. Babe and Truman had an intense friendship based on a mutual appreciation of beauty, fashion, glamour, and gossip. In a tale full of intrigue, scandal, immense wealth, and ultimate betrayal, Truman and Babe's story will go down in infamy.
High society always boggles my mind. I am Midwestern and tacky in the extreme, I simply cannot fathom the amount of money Truman and his swans were running around with. I found the lifestyle these folks were living impossibly glamorous, and I must admit the gossip and scandal tickled the bit of me intrigued by such things. I also totally cracked up when Slim kept going on and on and on about the time she spent with Hemingway. Everyone was all "OMG Slim, shut up already." And I was all "Haaaaaaaaa! I don't much care for Hemingway's writing so this is extra funny to me!" (Please, let's not roast Katie alive for the Hemingway confession, okay?) Truman Capote was a larger than life persona, like whoa. Do I love him and empathize with him? Do I want to punch him in his smug face? Is it possible to feel all these things at the same time?! And how do I feel about Babe Paley? It's all so complicated!
If you'd like to revisit a bygone era, Mad Men
style, definitely give this book a go. If you like Truman Capote, you should totally read this. If you find yourself having difficulty rustling up sympathy for the rich and famous, maybe don't read this. Or. No. Read this anyway. Even you cynics will find it satisfying, methinks.
Talk to me, Bookworms! Do any of you follow celebrity gossip? Do you ever wonder just what goes on behind the fancy parties?
*If you make a purchase through a link on this site, I will receive a small commission.*