Howdy Howdy Bookworms!
After slogging through some pretty intense literary fiction, I decided I deserved a treat. I needed some feel good, charming lady fiction, and I needed it fast. Enter Vintage: A Novel
by Susan Gloss. It was just what the doctor ordered.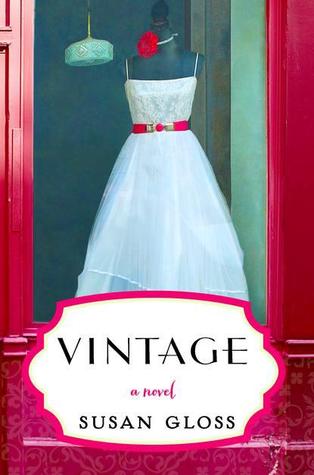 Violet Turner owns a small vintage clothing boutique in Madison, Wisconsin. She's poured her heart and soul into the project and overcome all sorts of obstacles to achieve her dream of owning the shop. All is thrown into upheaval when her landlord delivers unsettling news. April Morgan is 5 months pregnant when she comes into Hourglass Vintage to purchase her wedding dress. The 18 year old returns to the shop a couple of weeks later attempting to return the dress and pick up the pieces of her broken heart. Amithi Singh is a middle aged woman who discovers her husband's betrayal. She begins selling items to Hourglass Vintage while coming to terms with the life she thought she'd had. These three unlikely friends find each other, each in the midst of personal crisis. Their bond helps them all find hope and sort out their new realities.
You guys!!! I loved this book. I have a soft spot for books set in the Midwest anyway, but man. These charming little towns in Wisconsin are making me want to take little touristy weekend trips to eat cheese and drink beer and probably visit my baby cousins (who are now very old and not babies at all.) This is the sort of book I need to read in the middle of a long dreary winter. If you need a pick-me-up, pick up Vintage! 
Tell me something, Bookworms. Do you find yourself more connected to books when they're set in your neck of the woods?
*If you make a purchase through a link on this site, I will receive a small commission.*