Happy Monday, Bookworms!
You know what my favorite thing is? No? I don't really know either, I have so many favorite things. One of the things I do happen to love, though, is when I pick up a book by an author I've not read before and upon finishing it want to add said author's entire back list to my TBR pile. Loving new-to-me authors is a blessing and a curse, the never ending TBR list makes me shake my fist toward the heavens. I took a little road trip to visit some friends and family recently, nothing huge, just a weekend away, but as I was driving solo I simply had to have an audio book to keep me company. I was lucky in that a copy of Someone Else's Love Story
by Joshilyn Jackson was available for immediate download from my local library. Score!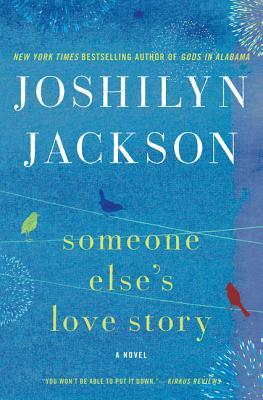 I've actually had a paper copy of Someone Else's Love Story
sitting on my shelf for a while now, but I hadn't gotten around to it. I have reasons for this. Terrible reasons, but reasons nonetheless. The big one? I do the vast majority of my reading in bed. Like, while my husband snoozes next to me. This means overhead lighting is not an option. Juggling a book light is a pain in the tush, but the light in my Kindle Paperwhite
is magical and perfect. Hence, my time reading actual paper books is super limited. Of course, I don't want to purchase a copy of a book I already own just because I'm lazy and it's easier for me to read digitally, so it sat and floundered sadly. The cool thing about libraries? They're free. Heck yes!
I should probably tell you about the book, shouldn't I? Shandi Pierce is a 21 year old single mother of a precocious 3 year old with a genius level IQ. Her life consists of juggling college, motherhood, and attempting to keep her long divorced parents from all out warfare. As she's moving from her mother's house into a condo her father owns (much to her mother's chagrin) Shandi finds herself in the middle of a gas station holdup. Because she obviously didn't have enough going on.
It is inside this gas station where her path crosses with geneticist William Ashe, who, in addition to being brilliant, looks fantastic in a pair of jeans. His entire world fell spectacularly to pieces a year previously, and Shandi feels their destinies have collided for a reason. It's a charming book full of heart, humor, and a cannily crafted plot.
Two things stick out to me about this book. First. William Ashe is on the autism spectrum. This is easily one of the best portrayals I've ever read about someone on the spectrum, and it seemed very authentic. I'm no expert on Asperger's or autism, but my reading experience leads to polarized portrayals; either a quirky, humorous angle or a desperately tragic one. William Ashe had a good dose of both, he was a masterfully drawn character.
The second thing that sticks out to me is a less awesome one. Shandi came to have her son under some pretty upsetting circumstances. I don't want to hit y'all with spoilers, buuuuuuut I think that Jackson may have done better to take a different angle on Natty's paternity… I'm all for understanding the shades of gray in a situation, but I wasn't super keen on how she dealt with it.
Still, that's not enough to keep me from plowing head first into Joshilyn Jackson's collected works. You can bet your bottom dollar that I'll be checking those out. In short? Someone Else's Love Story
 is definitely worth your time.
Talk to me, Bookworms. Have y'all read this book? Or anything else by Joshilyn Jackson? I want to talk about all the things. In code, probably, because I like to pretend I'm a spy sometimes.
*If you make a purchase through a link on this site, I will receive a small commission.*